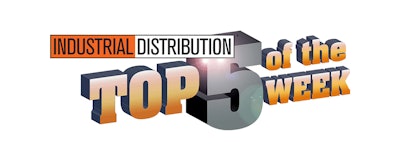 July is coming to a close and we're less than a month from revealing ID's 2018 Big 50 List. This week, Amazon's new PartsFinder app feature was of major interest, while thought leadership pieces on distributors' service offerings, using LinkedIn for sales and e-commerce product content were also well-read.
Here's this week's Top 5
New Amazon App Feature Helps Users Find Fasteners: Have you ever been building something at home, or doing a small repair, and didn't quite know what size screw or washer you needed for the job? Thanks to Amazon, there's an app for that.
Distributors Turn To Service-Based Offerings To Stay Competitive: The world of distribution is evolving at an incredible rate. From disruptive technologies, to e-commerce and the changing demands of consumers and B2B buyers, the wholesale distribution industry is in upheaval. Today, industry leaders must look at service-based offerings for game-changing opportunities to reimagine their approach to selling and servicing customers. Infor's Kelly Squizzero explains.
SunSource To Acquire United Distribution Group: The industrial products received another shockwave last week with news of the latest landmark acquisition. Addison, IL-based SunSource, a large distributor of fluid power products and fluid process technologies — announced that it has agreed to purchase Briston, TN-based United Distribution Group — a diversified MRO products distributor that operates through two subsidiaries: GHX Industrial and United Central Supply.
Making LinkedIn Work For Distributor Salespeople, Pt. 2 - How Do We Know It's Effective?: LinkedIn is a sales and marketing vehicle. It's a way for salespeople to brand themselves and help their company stand out among the crowd of distributors and salespeople calling on the same prospects. How do we know LinkedIn works? Mike Sawchuck shares some eye-opening research as proof here.
In Distribution E-Commerce, Product Content Really Is King: Grant Movold, IT manager at Marks Supply, gives a first-hand account of how his company installed e-commerce, what the results have been, and his advice for other distributors.
Last week's Top 5