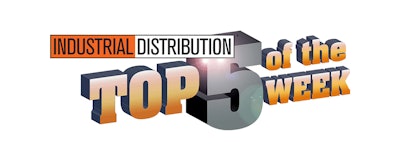 The latest quarterly earnings reporting period kicked off this week, with Fastenal's Q2 numbers leading traffic on ID. Meanwhile, our two latest Quick Hits episodes — covering Amazon's new inventory management policy and the impact of steel tariffs on industrial suppliers — were also big items.
Here's this week's Top 5
Fastenal Q2 Sales Improve 13% As Vending Installations Top 76K: Fastenal continued its now long-standing strong growth during its 2018 second quarter, powered by fastener product sales and especially by vending and onsite sales.
ID Quick Hits - New Amazon Policy Cracks Down On Sellers' Inventory Management: Here, I recap Amazon's new warehouse policy that penalizes sellers for storing products for too long, as well as the latest manufacturing PMI and construction spending numbers.
Lowe's Overhauls Leadership Structure; Cuts Several C-Suite Roles: Lowe's announced a new corporate leadership structure that eliminates the roles of COO, chief customer officer, corporate administration executive and chief development officer and introduced new simplified roles. Two Lowe's executives have also left the company.
ID Quick Hits - Industrial Suppliers Feeling Effects Of Steel Tariffs: In our latest episode, I discuss the impact of steel tariffs on industrial suppliers and distributors, probing the pros and cons.
What Does "Winning The Sale" Really Mean?: While earning a customer's business with a low bid might technically mean you "won" the sale, you also paid a price for it. The customer likely got the better end of the deal. Here, Troy Harrison discusses what a legitimate sales victory entails.