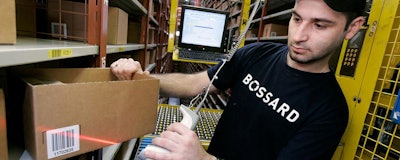 Zug, Switzerland-based fastener products distributor Bossard reported its 2018 second quarter and first half financial results on Thursday, showing continued strong gains for the company across all geographic regions, including the U.S.
The company posted total Q2 sales of $226 million, up 15 percent year-over-year (YoY), following 11 percent growth in Q1. For the first half of the year, total sales of $447 million grew 13 percent.
Accounting for 60 percent of total Q2 business, Europe sales grew 19 percent YoY in Q2 and grew 17 percent for the first half of 2018. Accounting for 27 percent of business, U.S. Q2 sales of $61.1 million grew 7 percent YoY and were up 4.5 percent for the first half of the year to $118.9 million. Asia accounted for 16 percent of Q2 business with sales of $35.9 million up 18 percent YoY, with first-half sales of $66 million up 15 percent.
Bossard posted a total 2018 first-half profit of $48.8 million was a company record, up 20.4 percent YoY on a comparable basis.
Bossard announced in late June that Dr. Frank Hilgers will become manager of the company's northern and eastern Europe business as of May 1, 2019. And back in January of this year, Bossard said that current CEO David Dean will step down from his position on April 8, 2019, to be succeeded by Dr. Daniel Bossard.