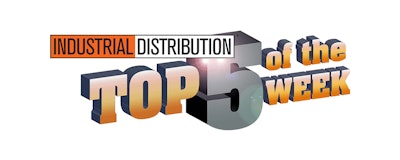 Three acquisitions involving ID Big 50 List companies expectedly were traffic leaders this past week, while a thought-leadership piece on e-commerce and a distributor's lawsuit settlement were also of high interest.
Here's this week's Top 5
MSC Acquires Fastener Distributor All Integrated Solutions For $86M: MSC Industrial Supply has announced its second acquisition in nine months, on Tuesday stating it has purchased Wisconsin-based fastener distributor and service provider All Integrated Solutions from private equity firm High Road Capital Partners.
Distribution's Achilles Heel In Online Commerce: Scott Benfield gives an in-depth analysis of the state of e-commerce in distribution and how distributors absolutely must improve in online sales to remain competitive.
SunSource Acquires Fluid Power Distributor Ryan Herco Flow Solutions: The flow control products market received a shakeup on Monday when SunSource — one of the largest fluid power products distributors in the U.S. and Canada —announced that it has completed the acquisition of fellow large distributor Ryan Herco Flow Solutions for an undisclosed amount from Greenbriar Equity Group. RHFS becomes the third ID Big 50 List distributor to be acquired in the past nine months.
Interline Brands To Pay $16.5M To Settle Faulty Toilet Part Lawsuit: Interline Brands has agreed to pay $16.5 million to settle a class action suit alleging a faulty toilet part Interline distributed causes flooding, which the company still disputes.
BDI-USA Acquires Advanced Automation Controls: BDI-USA has acquired substantially all the assets and hired the employees of Advanced Automated Controls Inc., an electrical systems integration and engineering company based in Lake Ariel, PA.
Last week's Top 5