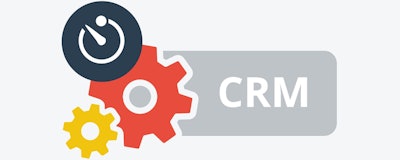 In a traditionally fragmented market that's currently set in a climate of depressed prices, a strong customer base remains paramount. Keeping those relationships up comes down to data. It's not just sales data or product data. What's just as important is the data about what your customers don't use, because it identifies sales opportunities.
Successful distributors know this and more about their customers, as well as their customers' customers. They're making decisions based on this information through their customer relationship management (CRM) software.
Having this trove of insightful data empowers companies to efficiently improve all types of services. Companies can be aware of the projects customers work on, as well as what their clients sell, and what their challenges are. Servitization has become an integral part of industrial supply — so it must be managed, along with an increasing number of clients who are more demanding, proactive and involved than ever. A CRM helps keep track of all of those growing number of customer touch points.
CRM Growth: Technology for Growth
According to Gartner, a leading research and technology analyst firm, CRM software revenue rose to $39.5 billion in 2017 to become the largest software market. Looking ahead, the industry forecast is promising. CRM is expected to experience a growth rate of 16 percent in 2018 and will remain the fastest growing software market. Gartner analysts say that surge is driven by the need for lead management, voice of the customer and field service management, each of which is achieving more than 20 percent growth. Those are just some proof points as to why the industrial supply marketplace is increasing its demands for CRM software. Today's competitive markets demand that the many moving parts to an industrial business function productively and efficiently.
As the numbers prove, CRM is becoming a top priority as a key technology investment in the upcoming year. If you're thinking it's about time you build on customer relationships or you're looking to switch CRM vendors, be sure you are evaluating the right characteristics and features that apply to your line of work. Here are six questions to keep you on track as you research which CRM can help your business grow, compete and thrive in the industrial supply industry.
1. Is the CRM easy to adopt?
Adoptability is so important because it is the first step to realizing the incredible benefits of a CRM. The fact is, using a CRM – at first - can be frustrating. According to Gartner, the average rate for CRM adoption is below 50 percent. That's because in business, there tends to be a resistance to change. Starting out with a highly adoptable CRM that is proven to be easy to use can certainly be the game changer to getting your workplace teams on board.
2. What are the CRM implementation costs?
With any new software, there's also a period of implementation, training and downtime to expect. Evaluate what a CRM implementation realistically involves. Will the system require outside consultants? What are the extra costs? How can best practices can be established as you move forward? Successfully adopting then implementing a CRM is also about creating and sticking to a smart sales process.
3. Is the CRM mobile?
To keep up with the competition and the pace of change of technology today, a CRM must be responsive, flexible and mobile — accessible across web-enabled devices. Sales teams need to build relationships on the go. For the modern sales force, having customer information during a sales call or knowing a quote can be given on-site lends to better service and smarter relationship building.
4. Is the CRM customizable?
Once the CRM is up and running, it should be customizable because every company's operations differ. The flexibility that a CRM can offer is important to help your team manage their new sales process. However, some CRM solutions take weeks or months to configure. Along the way, that might also might require hiring outside consultants to figure out all the details. This is where a streamlined set-up process is paramount. Can you customize sales team roles, deal stages, activity categories, statuses, to-do templates, lead sources and tasks? You should be able to decide on customizations to fit your company's style. This makes selling a great experience for your whole team.
5. Does the CRM offer visibility into your sales pipeline?
In the industrial supply industry, relationships — and understanding them — are critical to success. For example, contract manufacturers must especially deal with lengthy sales cycles and be sure to follow through on commissioning or maintenance.
Keeping up a well-managed sales funnel is the difference between chance and consistent sales success. For any industrial supply business, a CRM should offer a 360-degree view of the customer's information and interaction history. Features to accomplish this include deal tracking, lead management, data importing, custom list views, sales team management and email integration.
If you are in tune with your customer's needs, then you can successfully cross-sell and up-sell — the data will be there to back you up.
6. Can you generate the reports you need?
CRM reports are what really puts an industrial supply company ahead of its competition. The ability to customize reports based on your unique data will showcase your wins, losses and opportunities, and open up ways to improve based on good data. It's all too common to learn that the processes you thought would be effective simply aren't. The data your CRM provides is the proof.
Furthermore, industrial supply companies need visibility into a clearly defined sales pipeline for the most precise forecasting. A CRM must have the ability to create accurate, influential forecasts as well as dashboard features to ensure a robust sales pipeline is always top of mind.
CRM: Data and relationships
In a market affected by conditions that often cannot be controlled, distributors and manufacturers must focus within their business to address operational issues that are easily within their control. An intuitive CRM is the start of that. The beauty of a CRM is that it reaches outward, resulting in impressive levels of customer loyalty usually witnessed in B2C businesses. Through an easy-to-use, customizable yet feature-rich CRM, responsive service is possible. Game-changing relationships become the solid groundwork to success.
A CRM is about understanding customers' needs, delivering the services that fit changing needs while nurturing new partnerships in deliberate and focused ways. By asking the right questions when you choose your CRM, you can benefit from insights that will be gathered from your most precious data — your customer data. Distributors that have the right software can back up their brand value, industry knowledge and established relationships. Through a CRM they will help create opportunities that will outweigh uncertainties in the industry, no matter what fluctuations rock the marketplace.
Lyamen Savy is the VP of Sales and Marketing at PipelineDeals where she focuses on customer growth, lifecycle marketing, and brand. She likes to obsess over every metric, delight every customer, and create fans. Most of all, she's passionate about helping businesses solve growth problems. Before PipelineDeals, Lyamen spent over 19 years in various sales and marketing roles at tech and finance giants like Microsoft, ING DIRECT, and Capital One, as well as high growth startup companies like HouseValues and DataSphere.