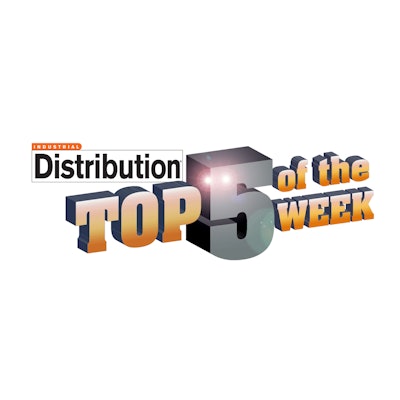 As September and the third quarter of 2017 come to a close, it was OSHA's Top 10 Workplace Safety Violations list that led content on ID this past week, while ABB's $2.6 billion acquisition of GE Industrial also garnered major attention.
Here's this week's Top 5
OSHA Unveils 2017 Top 10 Violations; Fall Protection Still Tops: Occupational Safety and Health Administration (OSHA) announced its annual preliminary list of the top 10 most frequently-cited workplace safety violations the organization encounters during safety inspections throughout the U.S. And to no surprise, Fall Protection remained No. 1 on the list that varies little year-to-year.
ABB Buying GE Industrial Solutions for $2.6 Billion: ABB has agreed to acquire GE Industrial Solutions — GE's global electrification business — for $2.6 billion in a deal expected to close in the first half of 2018. Headquartered in Atlanta, GE Industrial has about 13,500 employees worldwide.
Flowserve Appoints New CFO: The flow control products and services provider has appointed Lee Eckert as its new CFO and senior vice president. He comes from serving as SVP and CFO of CHC Group, a global commercial helicopter service provider to the offshore oil and gas industry.
Worker Killed by Truck at Pennsylvania Amazon Warehouse: A 28-year-old worker was killed on Sept. 19 when he was run over by a truck at an Amazon warehouse in Boiling Springs, PA. A worker had previously died at the same facility in 2014.
Video - An Overview of Fastenal Construction: Learn all about Fastenal's capabilities as a construction supplier in this new video from the company — which is No. 7 on Industrial Distribution's 2017 Big 50 List.