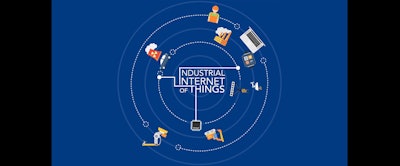 In the new report from PwC and the Manufacturers Alliance for Productivity and Innovation (MAPI), "Monetizing the Industrial Internet of Things," we explore how industrial manufacturers are leveraging the Industrial Internet of Things (IIoT) and the challenges they are encountering. Conducted from March to April 2017, this survey included responses from manufacturing executives, nearly two-thirds of which came from companies with annual revenues between $1-5 billion.
Entering the IoT race is no longer a choice – With nearly 90% of industrial manufacturers surveyed saying they are either now offering IoT-driven products and services to customers, or are in the process of developing them, there remains only a small minority of manufacturers who are not investing in IoT.
Thirty-one percent of manufacturers are implementing IoT enhancements to their internal operations, with another 56% currently exploring doing so, in order to cut costs in operational and supply-chain efficiencies and predictive maintenance assets.
However, only 23% of those surveyed are currently deploying IoT both internally and externally to customers.
IoT ROI is gathering steam – Four in five manufacturers are already pouring investments into IoT products and services development.
Forty percent of those companies have earmarked between 5-20% of their total research and development budget specifically for IoT.
While measuring returns on that investment can be a challenge, nearly half of manufacturers say they are seeing returns, with 41% experiencing returns of up to 5% of their total revenue in 2016.
Over the next five years, survey respondents expect to see an even greater return, with 42% expecting between 10-20% of their total revenue to be driven by IoT products and services.
IoT creates business models that deliver value – It is critical for manufacturers to find IoT business models that best align with and support their overall business strategy and customer base.
Nearly half (47%) of manufacturers currently offering IoT products and services are selling customer-managed IoT platforms (i.e., selling a bundling of product and IoT service, related data-gathering and analysis technology and software).
Another 30% of manufacturers have gone beyond that, selling IoT product-as-a-service (the manufacturer remotely captures customer IoT data and sells data analytics and services, including alerts on performance and maintenance needs).
Only 4% are selling fully integrated multi-sourced IoT platforms.
The challenges around IoT – Despite the industry's overall receptiveness to deploying IoT, there remain several concerns. Two of which that are especially noteworthy include:
Specialized talent – 26% of manufacturers have looked for additional talent resources through partnerships and acquisitions, and 25% purchased an IIoT platform to help with the product integration.
The foundation of IoT is the gathering of data, and then putting that data to work. The most challenging part for manufacturers will not be integrating IoT, but creating successful business models around the products and services. The next five years are sure to reveal major changes for the industry as more IoT products come online and data is better utilized.