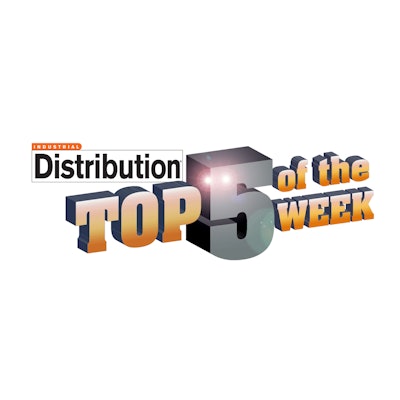 In a week with no major news, two thought-leadership articles led the way on ID, while ISA's latest Distributor and Manufacturer Indexes show major growth across the industrial supply market in May.
Here's this week's Top 5
Industrial Sales - Putting Yourself In The Customer's Shoes: Motion Industries' Mike Nagy discusses the importance of being a partner with your customers to help them make decisions.
3 Questions To Answer Before Implementing VMI: Paris Gogos examines the necessary questions to determine if a VMI solution is a good fit for your company, and the steps you need to take for meeting your goals.
ISA May Distributor Index Jumps To Highest Mark In 15 Months: ISA's Distributor and Manufacturer Indexes both showed considerable growth in May, with the Distributor Index showing its highest reading since February 2016.
Ahead Of Rebranding, Wolseley U.S. Sales Up 24% In Q3: Six weeks before the company's official rebranding as Ferguson, U.K.-based Wolseley reported its 2017 third quarter fiscal results on Tuesday, led by a considerable year-over-year sales increase in its largest geographic segment — the U.S.
3M Appoints New COO, EVP And Other Leadership Appointments: 3M announced Tuesday the appointment of its new chief operating officer, vice chair and executive vice president, as well as a number of other leadership positions including EVP of its Industrial business.