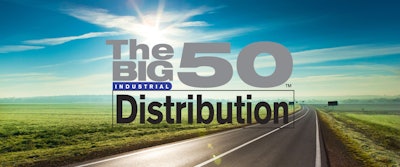 Moving Forward
These are trying times in industrial distribution. An ongoing industrial products recession that started when oil prices began their plunge in the summer of 2014 continues to grip the entire sector, putting a strain on distributors and suppliers alike. Many thought conditions would have improved by now, and certain signs say they have. But several prominent distributors say meaningful recovery is still a ways away.
In a post-earnings conference call in early July, MSC Industrial CEO Erik Gershwind discussed an overall pessimistic view across the market, saying that previous notions of industrial recovery "has given way to more belt tightening and less optimism among our customers." He went on to mention hearing more talk about "furloughs, time off and even some layoffs," among distributors and suppliers alike. Likewise, Fastenal's Q2 fiscal report mentioned that though Q1 showed some signs of economic improvement, it expected plant shutdowns and slowdowns to continue into the third quarter.
Industrial Distribution's 2016 Survey of Distributor Operations — conducted in March — showed that only 42.5 percent of respondents say their sales increased in 2015, down a whopping 27 percentage points from 2014. That coincided with only 45.2 percent saying profits increased, down 16 points. Going further, 68 percent of respondents picked economic conditions as their primary concern.
Overall, it's still a gloomy industrial economy and distributors have to make the best it. After several quarters in which companies suffered large year-over-year sales and profit decreases, it appears that consolidation and restructuring efforts are taking effect, making those declines considerably smaller than they were for the majority of 2015.
Despite industry downturn, distributors will survive and keep moving forward. They always have. Current market conditions mean that distributors have had to lean up their operations and get them in better physical condition to navigate these times of weakened demand for industrial products.
ID's annual Big 50 List typically sees companies reporting higher and higher sales year-over-year, which makes the 2016 all the more interesting as many companies brought in less revenue than in 2015. Read on to find out which distributors moved up, down, or are new to the list compared to last year.
Congratulations to our Big 50 List of industrial distributors.
— Mike Hockett, Editor
Click here to view out the full Big 50 feature in our September/October Digital edition, which includes commentary about, or by, those companies. Here's part one (Nos. 50-31), part two (30-11) and part three (top 10) of our video countdown.
Rank, Company
2015 Sales
Headquarters
CEO (*also president)
Locations
Employees
1. Wolseley
$20.8 billion
Reading, England
John Martin
2,743
37,727
2. Würth Group
$12.2 billion
Kunzelsau,
Germany
Robert Friedmann
400
70,000
3. Grainger
$10 billion
Lake Forest, IL
Jim Ryan
(DG Macpherson on 10/1)
669
25,100
4. Sonepar North America
$9.6 billion
Charleston, SC
David Gabriel
1,014
N/A
5. WESCO International
$7.5 billion
Pittsburgh, PA
John Engel
500
9,300
6. HD Supply
$7.4 billion
Atlanta, GA
Joe DeAngelo
550
14,000
7. Airgas
$5.3 billion
Radnor, PA
Michael Molinini (interim)
1,100
17,000
8. Motion Industries
$4.7 billion
Birmingham, AL
Tim Breen
594
6,387
9. MRC Global
$4.5 billion
Houston, TX
Andrew Lane*
350
3,900
10. Fastenal
$3.9 billion
Winona, MN
Dan Florness
2,605
20,324
11. Descours and Cabaud
$3.6 billion
Lyon, France
Alain Morvand
600
12,000
12. DistributionNOW
$3 billion
Houston, TX
Robert Workman
300
5,000
13. MSC Industrial
Supply
$2.9 billion
Melville, NY
Erik Gershwind*
97
6,510
14. WinSupply
$2.7 billion
Dayton, OH
Jack Johnston
580
5,600
15. Applied Industrial
Technologies
$2.6 billion
Cleveland, OH
Neil Schrimsher*
564
5,716
16. ERIKS nv
$2.3 billion
AAlkmaar,
The Netherlands
Simon Franken
400
8,000
17. Edgen Murray

Not disclosed

Baton Rouge, LA
Daniel O'Leary
33
550+
18. Interline Brands
Not disclosed
Jacksonville, FL
Michael Grebe
N/A
4,400+
19. DXP Enterprises
$1.25 billion
Houston, TX
David Little
191
3,234
20. Kaman Industrial
Technologies
$1.2 billion
Bloomfield, CT
Steve Smidler, president
238
2,180
21. F.W. Webb
$960 million
Bedford, MA
Jeff Pope, president
85
2,300
22. EIS Inc.
$762 million
Atlanta, GA
Bob Thomas
60
1,200
23. United Distribution
Group
Not disclosed
Bristol, CT
Darrell Cole
85
900+
24. Global Industrial
$699 million
Port Washington, NY
Bob Dooley, president
9
986
25. BDI
$687 million
Cleveland, OH
Carl James
205
1,547
26. Bossard
$655 million
Zug, Switzerland
David Dean
70+
2,000+
27. Turtle & Hughes
Not disclosed
Linden, NJ
Jayne Millard
9
850
28. BlackHawk Industrial
$430 million
Broken Arrow, OK
Bill Scheller
27
710
29. EWIE Group
$410 million
Ann Arbor, MI
Dilip Mullick
16
824
30. SBP Holdings
$364 million
Houston, TX
Otis Dufrene
51
1,000
31. FCX Performance
$330 million
Columbus, OH
Tom Cox
34
525
32. R.S. Hughes
$321 million
Sunnyvale, CA
Bob McCollum
50
525
33. AWC
$319 million
Baton Rouge, LA
Bob Wenyon
27
380
34. Production Tool
Supply
$317 million
Warren, MI
Lawrence Wolfe
25
577
35. DGI Supply
$295 million
Wheeling, IL
Jeff Waller
46
550
36. Ohio Transmission
Corp.
$293 million
Columbus, OH
Philip Derrow
23
631
37. Wajax Industrial
Components
$281 million
Mississauga, ON
Mark Foote
60
774
38. Lawson Products
$276 million
Chicago, IL
Michael DeCata
5
1,619
39. Hisco
$276 million
Houston, TX
Bob Dill
36
460
40. Kimball Midwest
$214 million
Columbus, OH
Pat McCurdy, Jr.
4
1,300
41. Tencarva Machinery
$209 million
Greensboro, NC
Ed Pearce
26
360
42. Hydradyne
$206 million
Fort Worth, TX
David parks
32
504
43. Valin Corporation
$167 million
San Jose, CA
Joe Nettemeyer*
18
267
44. IBT Industrial
Solutions
$162 million
Merriam, KS
Michael Flannery
44
440
45. Shively Bros.
$159 million
Flint, MI
Scott Shively
12
306
46. CBT
$157 million
Cincinnati, OH
James Stahl, Jr.
2
171
47. Womack Machine
Supply
$148 million
Farmers Branch, TX
Mike Rowlett
15
233
48. Mahar Tool Supply
$131 million
Saginaw, MI
Barbara Mahar Lincoln
3
133
49. Bridgestone
Hosepower
$129 million
Orange Park, FL
Palmer Clarkson
42
472
50. JGB Enterprises
$123 million
Liverpool, NY
Jay G Bernhardt
5
235
Just missing the list was Annapolis Junction, MD-based Cummins-Wagner, which would have been No. 51 with $111 million. Under the direction of president and CEO Doug Ardinger, Cummins-Wagner has nine locations and 220 employees.
METHODOLOGY
All Big 50 companies are ranked according to 2015 total worldwide sales, and all figures are reported in USD (in some cases converted based on the estimated exchange rate). We obtain information for publicly-traded companies based on annual reports, earning statements and company verifications. For the privately-held companies, we rely on self-reported data and follow-up interviews. Recently published press releases and company website information is also used to supplement data for this report. The Big 50 interviews were conducted via email, survey and phone by Industrial Distribution editorial staff.
The locations and employee headcount figures are as of Aug. 15, 2016.
We elect to refrain from listing any companies we are unable to obtain confirmed revenue numbers for, therefore there are a small number of companies we estimate would have earned a place on the list that were omitted.
For those of you who don't see your company names (but think you should): Please contact us with your information and we'll add you to our pool for next year. As always, your feedback is appreciated.
Please feel free to reach out to ID's editor, Mike Hockett, with comments or questions: mike.hockett@advantagemedia.com