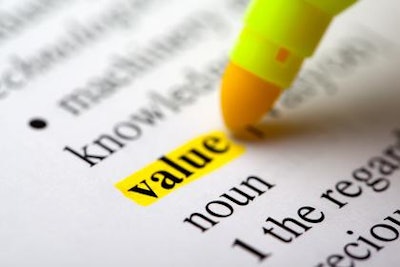 Service, inventory and profitability are a juggling act for any industrial distributor. But there's a newer ball in the air: How to – or whether to – combat direct-from-manufacturer purchasing.
A recent UPS study done in collaboration with global research firm TNS shows that 64% of industrial products buyers are buying direct; 88% expect that pace to increase. The numbers suggest that direct purchasing is more than a trend, it's a symptom – a warning sign that a growing number of buyers are not getting what they need out of a distributor purchase experience.
Why? The reasons are certainly as unique as the buyers themselves. It's now easier than ever to reach manufacturers online, whether by choice or by courtship. Those buying non-custom and non-niche products may find it easier, faster or cheaper to buy direct – or all of the above.
No matter the reason, there's a common thread. For a buyer to stick with an established supplier, their expectations for value must be met. It's a tough job, especially with the definition of value no longer simply a harmonious balance of price and quality. Buyers want those too, of course, but they also demand options. Payment options, delivery options and the option of buying on a website, phone or even through a sales rep if they want to, although they less frequently choose the latter. They want detailed product information and accurate availability and delivery dates. In short, value is more about the total experience than the ratio of price to quality.
Case in point: In the UPS study, 72% of buyers surveyed said they'd shift spending to a more user-friendly website. The number jumps to 85% for buyers between the ages of 21-30. That fact may astound distributors who have spent years cultivating customer relationships.
"The shift in what makes customers happy has been a difficult transition for many distributors," said Simon Bhadra, senior marketing manager for the UPS industrial distribution segment. "The UPS study confirms many of the changes they've been seeing, but, at the same time, they're surprised by how easily their customers might be lured away by competitors, including manufacturers."
In fact, the next generation of buying leadership may be the hardest for middle-market distributors to attract and retain. Millennial buyers are the most likely of all groups surveyed to buy from third-party sites such as Amazon Business and Alibaba. They're also the most likely to buy direct. As the first generation raised with technology an unquestioned part of their daily lives, one could imagine how high their expectations may be for a valuable purchasing experience.
Says Bhadra, "Most distributors are running very lean in order to offer excellent service at a fair price to their customers. But what we're finding is that our study data can help distributors figure out where to start first to amp up the perceived value of their services, and get the biggest return for their limited resources." He adds, "In some cases we see that direct purchasing is a battle worth fighting, and in others, it's not. The key is to take the first step toward greater understanding of your customers' needs, no matter how small that step may be."
To learn more, download a free copy of the UPS Industrial Buying Dynamics study white paper.