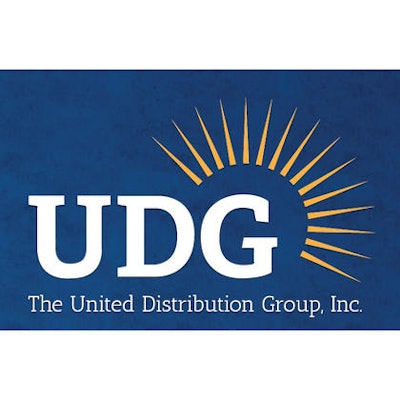 United Distribution Group proves the importance of customer service
By combining technical expertise, an expanded offering of products, and an emphasis on acquiring well-managed companies, United Distribution Group (UDG) has grown to become a powerhouse distributor serving the oil, gas, mining, and a variety of diversified industries. But the main reason for UDG's success is its focus on customer service.
"Our job is serving our customers and knowing what's important to them," says Darrell Cole, president and CEO of UDG. "We're extremely focused on our customers and differentiate ourselves with the services we provide and the way we conduct day-to-day business."
And that focus has paid off handsomely for the Bristol, TN-based company and its subsidiaries, as it has grown to 85 locations throughout the U.S. and Canada.The company, which sells everything from hose, pipe, valves, fi ttings, safety, and other MRO products, has seen its employee headcount soar to more than 900 up from about 700 in 2012.
With financial backing from American Securities Capital, UDG has acquired a number of well-known distributors serving a variety of industries. It has also opened new locations in order to better meet the needs of customers that have expanded their business operations. Its GHX Industrial subsidiary made three acquisitions in 2014, most recently acquiring Fugitt Rubber & Supply Co., a TN-based distributor of fluid sealing and fl uid transfer products. FR&S has two branches, a 25,000-square-foot facility in Memphis, TN, and an 18,000-square-foot facility in Jackson, TN.
Meanwhile, its subsidiary, McCarty Equipment Company, opened three new locations and enlarged a fourth last year, in addition to making one acquisition.
Cole says his company's strategy is simple: "We go where customers lead us." And that often happens because the company has a very active and growing national accounts business. "National accounts are very important to us," Cole says.
But regardless of where the customer is, the focus throughout UDG and its subsidiaries is to be committed to making sure that the customer gets the right products at the right time. And customers are pleased with the results.
For example, United Central Industrial Supply, a subsidiary of UDG, has a number of long-time customers like Wayne Elkins, vice president of material management ofPatriot Coal, a major U.S. coal producer.
"One of the unique things about United Central is that I can call the branch manager, the salesperson, or even the president of the company and I can get information from them immediately," says Elkins, who has been a customer of the company for more than 20 years.
"Most distributors rely on the manufacturer to provide the technical expertise that a customer needs. United Central has that knowledge available through their product management team and salespeople," he says.
In addition, he says that UC went beyond expectations in working with them on a past project. At one location, Patriot Coal wanted UC to become the sole supplier of products. That meant UC had to set up a system to supply all those needed products as well as establishing an onsite vendor managed inventory presence at the facility.
"UC had it in full operation within 30 days," Elkins says. "We sometimes put pressure on them to react quickly in tough situations and they always come through."
He adds that UC is a unique company in that it offers not only technical expertise in a number of product areas, but also a "broad spectrum" of MRO supplies. That technical knowledge has led to UC opening three repair service centers that provide value added services such as authorized product repair.
And UDG does, indeed, carry a wide inventory. Through its subsidiaries, UDG carries more than 170,000 line items and represents some 2,100 manufacturers.
UDG's Founding
UDG was formed in 2012 when United Central Industrial Supply (UC), the largest supplier of products to the mining industry in North America, merged with GHX Industrial. As a result, UDG now consists of UC, GHX, National Mine Service – a Canadian-based company offering technical and field support services for the mining industry; Gooding Rubber – a broad line distributor of rubber products; and McCarty Equipment Co. – a Texasbased distributor of hose, fittings, valves and other related equipment.
In seeking potential acquisitions, UDG looks for companies that are familiar with the oil, gas, mining, or energy related markets and have a strong, reputable management team. Identifying these potential acquisitions is the job of Dan Ahuero, vice president of mergers and acquisitions. Ahuero is a well-known and respected distribution executive in the hose and rubber industry. He is a founder and former executive chairman of GHX and also is a former president of NAHAD – The Association for Hose & Accessories Distribution. Another UDG employee, Jim Reilly, is currently the association's fi rst vice president and incoming president.
"We're fortunate to have Dan on board. He knows these companies and the industry so well. That has helped us a great deal," Cole says.
Unlike some acquirers in the distribution sector, UDG usually keeps the management and staff of the acquired company on board so the transition is seamless and UDG benefits from the experience and knowledge of those retained employees.
Cole is especially enthusiastic about GHX's acquisition in January of Houston, TX-based Hose & Fittings, Inc., a value-added fabricating distributor and key supplier to oilfield companies and OEMs with worldwide offshore and subsea operations. Their primary market is the oil and gas sector.
Cole says this specialized company will allow it to expand similar operations to other locations around the country in addition to the Gulf area, which it presently serves.
"They (Hose and Fittings) have a great team," Cole says. "We've kept everyone on board. This will allow us to continue that business into other offshore locations far beyond the Gulf area." The hose and fi ttings that HFI sells can be used in harsh environments such as in salt water, he points out.
While UDG, which primarily services the mining, oil, gas and other energy markets has seen sharp growth in the past few years, it faces a challenge because of a drop off in oil and gas prices, with some companies reducing the number of rigs in operation. Cole says that 2015 might prove to be below 2014, but still is optimistic.
"The upstream market might be impacted, but the downstream market (refi neries) will be operating all day every day," he says.
He is also quick to point out that UDG and its subsidiaries provide product to a number of other sectors including petrochemical, OEM, agriculture, pulp and paper, and chemical. Strategic acquisitions have allowed UDG and its businesses to go into new markets and penetrate further into existing ones.
Flawless Execution
Richard Harrison, president of GHX, says the company has an excellent program in place to make sure the acquisitions are executed as flawlessly as possible.
"We have an integrated model that takes anywhere from 12 to 18 months to complete," Harrison says, also noting that the systems integration process usually takes about 90 days.
But equally important, he says, is the culture integration. "We note what had made them successful in the marketplace and want them to be as proud and enthusiastic about the future as GHX is."
Finding and retaining technical talent is a problem faced by UDG, just as it is at many distribution companies. Henry Looney, president of UC, says his group actively recruits from some of the top universities but also has an excellent reputation for keeping and developing employees. Many of the employees in GHX and UC have been with the companies for years.
​Looney also mentions the success of UDG University. Under this program, UDG asks managers to recommend employees who have been identified as having potential for advancement. The program fosters the personal and professional development of employees and provides a way for that development to be structured and evaluated.
The company is proud of its relationship with its many manufacturers. Flexitallic, a manufacturer of gaskets based in Houston, TX, for example, has been a supplier to GHX for more than 20 years.
"We have a true distributor partnership relationship as opposed to a customer-vendor relationship," says Scott Long, director of sales and engineering in the U.S. and South America for Flexitallic.
That relationship has led to a strong team effort on joint sales as well as working together on new accounts. In some cases in which GHX has been awarded a contract, they recommend Flexitallic as a supplier while Flexitallic has done the same for GHX, allowing both companies to grow its share of business.
Garth Miller, Vice President of Customer Operations for Industrial Scientific, a manufacturer of portable gas monitoring equipment, has been supplying UC and GHX with products for many years.
"We have a very strong relationship with them," Miller says, noting that executives from the two companies meet on a frequent basis to share information, target accounts, and work on ways to grow both their businesses through a mutually collaborative effort. "These are very open and frank discussions," he says.
That is part of GHX's philosophy of positioning itself as the "expert fit" and "trusted partner" in the industry.
While UDG has achieved much success since its founding, Cole emphasizes that the team doesn't take that for granted. "We know we are graded every day by our customers," he says. "We like to say we supply the right products at the right place with the right support. It's something we take very seriously."