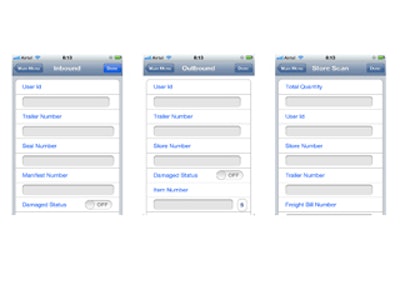 When Industrial Distributionreceived a press release announcing an iPhone application that could replace traditional bar code scanners in the warehouse and on delivery trucks, we were intrigued. We spoke with Jim Gumro, President and CEO
ID: What need in the industry did you see that prompted your company to develop this product?
Gumro: With the increasing need for live data and wireless capabilities, we noticed the products currently on the market can and will exceed $2,000.00 per unit.  Our application, in conjunction with a bar code scanning adapter, transforms the iPhone into a robust bar code scanning and data capturing device at a fraction of the price.  Our goal was to create an application that would allow us to be ready for the future now, by leading the way for all providers in the transportation industry to transmit data and signature capture just like the larger companies and reduce their costs at the same time. Many great companies do not have the means to get into the game of scanning, so they are bypassed on opportunities as a result. Our app will allow for everyone to be on an equal playing field.  
ID: Does this work in tandem with a desktop application at all?
Gumro: The application does work with our system which provides reporting and analytics.  It can be easily integrated with other systems depending on the file format they require.  The application output is in a simple text format with "|" delimiter.   It could be open to Microsoft Excel or any other X12 EDI file formats (856, 210, 214, etc.). 
ID: How customizable is the app to a particular business or distributor?
Gumro: The application is fully customizable based on the needs of the business or distributor.  Adding or eliminating fields or functions is something we look forward as we grow into other types or markets looking to solve any data capturing needs. 
ID: What kind of a learning curve does the app have? How much set-up time to integrate it into your system?
Gumro: The application is very user friendly and the fields required for the user to enter data are clearly defined.  The user can learn to use this application in a matter of minutes.  Set up time depends upon the existing platform a company may be using and network infrastructure.  Set up and implementation could take from one day to a week depending on the complexity. 
ID: What are you looking at improving upon in future releases?
Gumro: Validation at the point of inbound scan, outbound scan, and delivery scan so that the user will know what he has and has not scanned based on the expected barcodes uploaded to the application. 
GPS tracking for drivers is also a goal of ours.  This would allow the dispatchers to be able to track the deliveries and identify where the drivers are and their ETA for delivery. 
ID: Do you see this application revolutionizing the way that distributors do business? How?
Gumro: YES - First the cost of getting into scanning, and maintaining servers, and updating conventional scanners are going through the roof, then there is the cost of repairs and replacing older scanners that certain platforms will no longer support. Consider the cost of a standard scanner at $2,000.00, then a service agreement of an average of $700.00 per month and you're just getting started.
Any scanner will read barcodes and transmit data after the scanner is downloaded, our system will do it instantly. For example, if you had a fleet of trucks making deliveries and traveling state to state some can be gone for several days before they get to a location where they can download the scanner from previous day's deliveries. Should a POD be needed or if an overage, shortage and damage report is needed you will have to wait for the driver to return. And with that thought in mind you have to consider the trucking companies that use independent contractors: how do you manage the conventional scanners when they go home after the days deliveries without returning to the terminal? The cost of additional scanners on site for backups is expensive:  if each driver had their own app, all data is transmitted instantly after each delivery, so there is no need to return to dispatch, or download a scanner, and in the event a driver quits, the driver is gone and not a $2,000.00 scanner. With our app all of the data is instant. How will that help?  In the event of a shortage, a shipper will be able to track a shortage of cutting tools, piping, retail or replenishment items at the time of delivery. ALL data is available immediately after the final scan is completed with or without a data plan, any WIFI will work.
The cellphones of today have a long life battery that is easily charged from a cigarette lighter or any ordinary outlet, something that cannot be done with most conventional scanners. Another advantage is you can send a driver out with ONE scanning tool using our app. In many cases drivers go out and have to take several conventional scanners because the software is so ridged. Our app works with any software, you will get real time reporting, Signature capture, and credit card swipe.
---
Gumro and Associates Launches Accurate Scanning Technology®
State of the Art Smart Phone Application Takes Bar Code Scanning to New Heights
June 18, 2012,  ROCHESTER, MI – Gumro and Associates, a Rochester, MI based logistics solutions company, today announced the launch of its Accurate Scanning Technology® Application.
The smart phone app, which is designed to provide state of the art scanning and data collection with the convenience and cost effectiveness of a smart phone, is the first of its kind in the industry.  The application goes beyond just reading a bar code and instead is able to gather important data for reporting and proof of deliveries. Accurate Scanning Technology® even has the ability to capture signatures and credit card information for payment.
"We saw a need in the industry to provide companies with a solution that would allow them to collect the data they need at a price that was not astronomical," said Jim Gumro President and CEO, Gumro and Associates. "Accurate Scanning Technology® does just that. The iPhone app is able to do what conventional hand held scanners can for a fraction of the price. In addition, it is easy to use and is robust enough to stand up to the needs of everyday use in the supply chain demands and beyond. We feel we have truly cleared the path to a new era of how scanning technology will work in any environment"
The application, which is currently available for iPhone and iTouch is far more cost effective than traditional hand held scanners which run on average $1,500 to $2,000 per unit. "This product allows us to achieve a faster means of logging and tracking which provides us a huge advantage every day," said Robert Pelachyk, President and CEO of Heller Machine Tool a customer of Gumro and Associates and user of Accurate Scanning Technology. "Since we've been involved with Gumro and Associates we've been able to not only save a lot of money but their products are state of the art and they are always staying ahead in the industry."
The patent pending application was recently shown at the NASSTRAC Trade Show in Orlando Florida, 2012 and received rave reviews from industry experts citing the speed of data transfer, signature capture, capability to take pictures of damaged product and reasonable pricing all as major assets to the product which is pioneering the next generation of supply chain solutions. Accurate Scanning Technology® can be utilized easily across multiple verticals such as the medical and retail industries.
For more information on Accurate Scanning Technology®please visit: http://www.accuscanmobile.com/ . A demonstration video on the product can be found by clicking here.
About Gumro and Associates
Mr. James Gumro, former president of 30 years for Advanced Pool Distribution, founded Gumro and Associates (G&A) in 1986. The driving concept behind the new company was to provide a new approach to pool distribution functionality by incorporating affordable, cutting-edge technology. This technology would allow for customized freight tracking, freight visibility and simplistic data collection. This evolution in logistic solutions, coined ePAD (electronic Pool and Distribution), was drafted in 2001. The final product was released in 2003. Since it's conception and launch, ePAD has allowed customers to stay competitive in today's vast and technologically driven market.
The Gumro & Associates headquarters' is located in Rochester, Michigan. However, in order to provide our customers with unparalleled service, the company offers numerous national & international based pools.