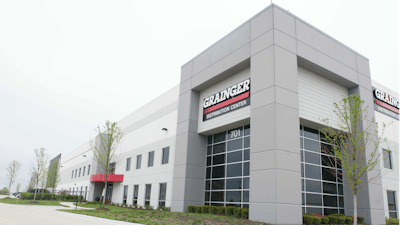 W.W. Grainger
MRO distribution giant Grainger reported higher sales, earnings and profits in second-quarter financial results announced Thursday.
The suburban Chicago company — the top distributor on ID's Big 50 — highlighted nearly $4.2 billion in sales between April and June, up 9% from the $3.8 billion in the second quarter of 2022.
The distributor's gross profit rose 14% over that span — from $1.4 billion to $1.6 billion — while operating earnings jumped by more than 23%, climbing from $534 million to $661 million. Grainger's diluted earnings per share came in at $9.28, up more than 29% compared to the same quarter last year, and both gross profit margin and operating margin were up year-over-year.
Grainger Chairman and CEO D.G. Macpherson said demand during the quarter was "reasonably steady" and highlighted the company's recent announcement of a new distribution hub near Portland, Oregon.
The company's flagship High-Touch Solutions division saw average sales per day rise by nearly 10% amid higher prices and volume growth, along with increased profit margin due mostly to "sustained freight and supply chain efficiencies." Its Endless Assortment segment, including e-commerce operations Zoro and MonotaRO, reported a 4.5% increase in daily sales, which officials attributed to new customers and growth in enterprise business at MonotaRO.
"Across the business, we continue to invest in our team members and operations, including the recent announcement of our new Northwest Distribution Center, all while producing great results at the top and bottom line," Macpherson said in a statement.
The company continues to anticipate as much as $16.8 billion in sales during the full fiscal year but increased the floor of its annual sales forecast from $16.2 billion to $16.4 billion; that would amount to sales growth of between 8% and 10.6%. Grainger officials maintained its earlier projections for gross profit margin and operating margin.