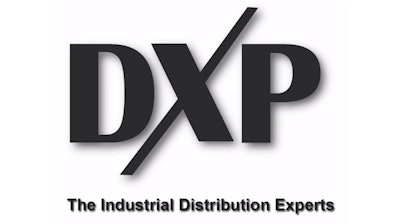 DXP Enterprises on Thursday confirmed a 33% increase in sales and a 40% increase in earnings in the first quarter of the year.
The company, originally scheduled to issue its quarterly earnings report a day earlier, canceled its Wednesday earnings call but provided a "preannouncement" update to shareholders later in the day. DXP then issued its official financial results the following day.
Sales in the quarter totaled $424 million, up from $319 million last January through March, while the company's net income of $17.6 million rose from $12.6 million year-over-year. Gross profit climbed from $95 million in the previous first quarter to $125 million, while diluted earnings per share rose from $0.65 to $0.95.
Company officials said the quarter's sales and adjusted EBITDA totals set new record highs and that all three of DXP's business segments saw "strong growth and good margins" in the quarter amid "solid" demand.
"While managing the slowing pace of inflation and other market challenges, overall, we are off to a great start to the year, and we feel good about the outlook for 2023," DXP Chairman and CEO David Little said in a statement.