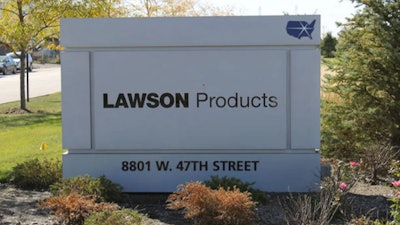 Mike Hockett/Industrial Distribution
MRO products distributor Lawson Products — No. 31 on Industrial Distribution's Big 50 List — reported its 2020 second quarter financial results on Thursday, led by considerable acceleration in sales decline amid impacts from the COVID-19 pandemic.
Chicago-based Lawson reported total Q2 sales of $72 million, down 24.9 percent year-over-year (YoY and down from $91 million in Q1 when sales were down 0.3 percent. Average Q2 daily sales were also down 24.9 percent. The company's Q2 operating profit was $0.6 million, compared to $18.6 million in Q1 and $1.6 million a year earlier, while Q2 adjusted operating profit of $4.8 million was down 40 percent YoY and down from $7.9 million in Q1. Q2 net profit was also $0.6 million, compared to $1.3 million a year earlier. Adjusted net profit was $3.5 million.

"The current disruptive conditions have challenged us to be more productive in many areas of the organization that will have continuing long-term benefits," Lawson Products president and CEO Michael Decata commented. "Although there is uncertainty about the pandemic and general economy, we believe the actions we've taken, their near term results and long-term implications best serve our shareholders and employees by positioning Lawson to achieve solid growth into the future."
The company said pandemic impacts bottomed out in April, when sales were down 35 percent YoY. Sequentially, as the quarter developed, May average daily sales increased nearly 23 percent over April's, while June's increased another 6 percent over May.
"During April, the Company experienced a demand surge for its safety and cleaning products with softer trends in its automotive product line," the company stated. "As the quarter progressed, product category mix trends normalized."
While Q2 gross profit of $38 million was down from $51 million a year earlier, profit margin held steady at 53 percent. Lawson said its core MRO segment gross margin was 59.7 percent, excluding service costs, compared to 60.5 percent a year earlier.