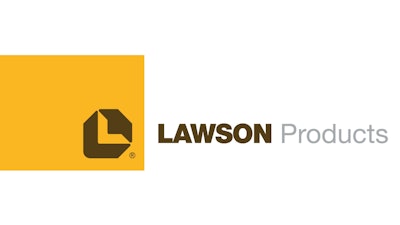 MRO products distributor Lawson Products — No. 31 on Industrial Distribution's Big 50 List — reported its 2020 first quarter financial results on Thursday, led by a modest year-over-year sales decrease driven by impacts from COVID-19 during the second half of March.
The Chicago-based company posted total Q1 sales of $91.0 million, essentially flat (-0.3 percent) compared to a year earlier, while average daily sales decreased 1.9 percent year-over-year (YoY). Lawson's Q1 operating profit of $18.6 million was more than triple the $5.5 million of a year earlier, while adjusted operating profit of $7.9 million improved 33 percent. Sequentially, Q1 improved over Q4 2019's $88.6 million in sales, operating loss of $4.5 million and operating profit of $5.8 million.
"Although sales were increasing sequentially, we experienced declining sales due to the economic impact of the COVID-19 pandemic in the second half of March," said Michael DeCata, Lawson Products president and CEO. "Our adjusted operating income improved for the quarter as we leveraged our costs and immediately implemented actions to align our cost structure with the demand environment."
The company said that amid the COVID-19 pandemic, its cash flow position has been aided by a $100 million revolving credit agreement it entered in late 2019. Even so, Lawson said Thursday that it has taken numerous cost reduction actions that include furloughing approximately 100 employees, reducing salaries and board compensation, canceling travel and award trips, consolidating its Suwanee, GA distribution operations into Lawson's McCook, IL facility and eliminating non-critical capital expenditures."
"We are closely monitoring the operating environment. Looking ahead, we will take all necessary actions to ensure safety for our employees, customers, and suppliers while maintaining our strong financial position," Lawson's Q1 earnings release said.