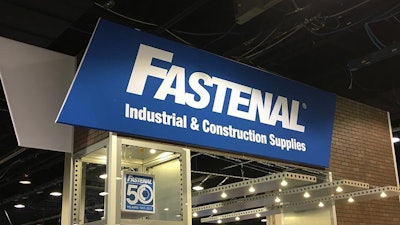 Fastenal shared its 2019 November sales information on Wednesday, with the figures led by accelerated daily sales month-to-month after a consistent slowdown throughout most of the year.
Fastenal had November total sales of $413.1 million, up only 0.7 percent year-over-year, but up 5.7 percent on a daily sales basis as November 2019 had one fewer selling day than in 2018.
That 5.7 percent daily sales figure is a solid improvement over October's 4.3 percent, though is still down considerably from the consistent double-digit daily sales growth figures the company was posting through March 2019 — correlating with a market-wide slowdown in demand for products.
See Industrial Distribution's November/December ID In-Depth cover story on Fastenal here
Here's how Fastenal's year-over-year daily sales growth has looked through 2019 so far:
January - 13.3%
February - 10.5%
March - 12.7%
April - 7.4%
May - 9.5%
June - 7.0%
July - 6.1%
August - 6.3%
September - 5.8%
October - 4.3%
November - 5.7%
Fastenal's US daily sales grew 4.6 percent year-over-year in November, compared to 3.7 percent in October. Daily sales to manufacturing customers grew 7.5 percent (5.8 in Oct.), and sales to non-residential construction grew 5.0 percent (4.0 in Oct.). Daily sales of fasteners grew 2.4 percent (3.4 in Oct.), while all other sales grew 7.6 percent (5.3 in Oct.).
Fastenal ended November with a total employee headcount of 22,038, which was up 340 from a year earlier, or 1.6 percent.
On Oct. 11, Fastenal reported that its 2019 third quarter sales of $1.38 billion were up 7.8 percent year-over-year, with daily sales up 6.1 percent.