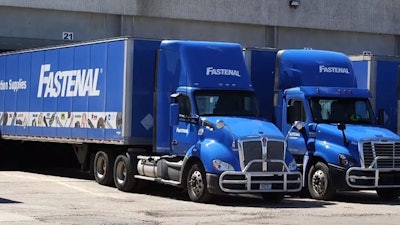 Fastenal, which last week unveiled a preview of its new, large Winona, MN office that's soon to be under construction, shared its 2019 October sales information on Wednesday. And while the numbers show continued growth for the company, it's at a decelerated rate that matches the industrial products' sector's steady decline in demand throughout 2019.
Fastenal had October sales of $490.1 million, up 4.3 percent year-over-year, with daily sales of $21.3 million up by that same amount.
While that 4.3 percent growth is still positive, it's a long ways from the consistent double-digit growth the company saw throughout 2018. Fastenal started 2019 with January daily sales growth of 13.3 percent. Here's how that number has looked through 2019 so far:
January - 13.3%
February - 10.5%
March - 12.7%
April - 7.4%
May - 9.5%
June - 7.0%
July - 6.1%
August - 6.3%
September - 5.8%
October - 4.3%
Fastenal is hardly the only industrial distributor to post decelerated sales throughout this year. During the current quarterly earnings reporting period, nearly all publicly-traded industrial distributors have cited weakened industrial demand that has driven reduced sales over the past two quarters and into Q4.
Fastenal's US daily sales grew 3.7 percent year-over-year in October. Daily sales to manufacturing customers grew 5.8 percent, and sales to non-residential construction grew 4 percent. Daily sales of fasteners grew 3.4 percent, while all other sales grew 5.3 percent.
Fastenal ended October with a total employee headcount of 21,993, which is up 557 from a year earlier, or 2.6 percent.
On Oct. 11, Fastenal reported that its 2019 third quarter sales of $1.38 billion were up 7.8 percent year-over-year, with daily sales up 6.1 percent.