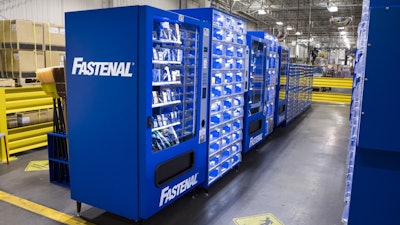 Fastenal
Inc. magazine once called Bob Kierlin "the cheapest CEO in America." In their 1997 profile of Fastenal's founder and longtime chief executive, they said that Kierlin "doesn't just worry about operating costs; he obsesses about them."
To truly tell the story of Fastenal, you have to go all the way back to 1967 when Kierlin founded the company upon the premise of "doing something different" as a supplier. That difference, says the company, has been an unrelenting pursuit of "growth through customer service" — a phrase Fastenal embraces so strongly it's even put a trademark on it.
But first, Fastenal had to get off the ground, and before there was "Lean," there was the Bob Kierlin approach. For example, he once said the company's first location in Winona, MN was referred to as "the 55 Club," because that was the temperature at which the thermostat was set, even in the dead of winter. The frigid air clearly didn't deter customers, as Fastenal — then the smallest of 10,000 U.S. fastener distributors — began to add one location after another.
It was the combination of an innovative business model and an attention to cost that started the domino effect of Fastenal's omni-presence: with 3,000+ locations today, the company's footprint dwarfs its rivals in terms of brick-and-mortar. But all the way through, Fastenal continues to pursue ways to put its sales and service model — quite literally — in a customer's facility day in and day out.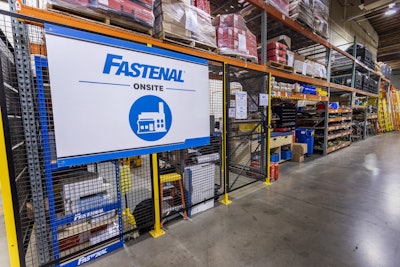 An Obsession Marches On
If an obsession with rooting out wasted costs is embedded in Fastenal's culture, then you can consider them evangelists – bringing that attention to profitability to their trusted business partners the way they know best: with boots on the ground.
The company announced this past July that it has reached a landmark 1,000th active "Onsite" location. The Onsite program was designed as a way for Fastenal to take on more of the heavy lifting for its customers by bringing a Fastenal rep — inventory and all — into the customer's facility with the day-to-day objective of assessing their needs, managing their inventory and driving out costs.
Back in 2015, Industrial Distribution profiled Fastenal when Onsite was in its beginning stages. At the time, there were just a couple hundred customers participating in the program and the company was working to expand its reach. And while they not only expanded Onsite's customer base, the program itself has taken on new life, with customized options being developed to best shorten each individual customer's supply chain.
Take, for example, Nutrien, a Rocanville, Saskatchewan-based provider of crop inputs, services and solutions who also happened to be Fastenal's 1,000th Onsite setup. The solution consists of three dedicated service/stocking locations that Fastenal has customized to meet the specific needs of Nutrien's global locations. One exists within a Nutrien plant in Rocanville; one is an offsite location across the street from Nutrien's Aurora, NC facility and a larger location services five Nutrien sites in Saskatoon, Saskatchewan.
Not only do these types of customer-specific setups help Fastenal drive costs out of the supply side of these businesses, but for a customer like Nutrien, it allows them to focus on their core competencies – further moving the needle on cost savings.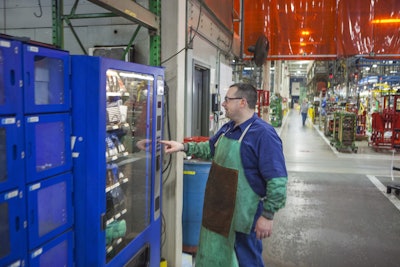 The FAST Get Faster
Vending has been another significant way for Fastenal customers to manage what was once a black hole of spending. And if the company needs to sell the value of MRO management, then they're clearly doing it successfully. The number of Fastenal vending machines in customer sites has basically doubled since 2015 and,
in June, the company announced it had installed its 100,000th vending device.
The idea for vending industrial parts reportedly came to Kierlin when he was just a boy working in his father's auto body supply shop. The fasteners came in small boxes the size of a pack of cigarettes, which sparked an idea: if cigarettes could be dispensed via vending machines, why couldn't fasteners?
The fingerprint of Fastenal's founder is on the vending program of today. "It took us roughly 40 years for technology to catch up with Bob Kierlin's idea, and here we are leading the industry," says Jeff Hicks, VP of sales for FAST Solutions, the company's vending unit.
And even though the industry at large is chasing down vending from a technology standpoint, there has to be an advantage to being first to market and, to Hicks, it's "the team behind the machine."
Says Hicks, "It's very difficult and expensive to get visibility on what would typically be considered low dollar, high volume parts, and vending gives people visibility to that." Yet, outside of the technology itself — Fastenal now offers 23 specialized devices in the FAST lineup — the company believes there's more to the equation. Making the vending technology work to its maximum potential requires a massive level of field service. "You can't just drop a vending machine in place and be successful," says Hicks, "and Fastenal, over the years, has put together that team behind the machine that has allowed us to be successful in that marketplace."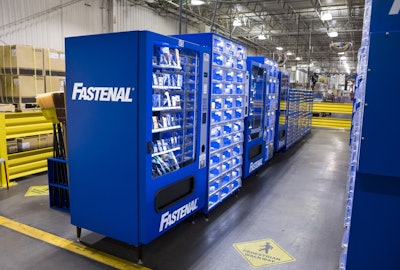 Making Sales Exciting
And while the focus with these recent milestones has been deployment and, of course, service, the bread-and-butter of any industrial supply business is sales. Bill Drazkowski, senior executive VP of sales, has been with Fastenal since 1995 and has seen change of all stripes. But it's the rapid evolution of both Onsite and vending that's made his job exciting.
"From a sales perspective, we take the approach of finding the best solution for the customer's business," says Drazkowski. For distribution, what was once a commodity business has morphed substantially. Customers want a great price but, often more so, they demand service, quick turnaround and a line card that covers the bulk of their needs. Fastenal does it all and, according to Drazkowski, "it's been exciting and motivating for the salespeople."
Drazkowski says proximity to the customer and a flexible approach helps salespeople innovate with their customers "on the ground," tying in technology to shorten the supply chain and to "help them save money through acquisition costs, less working capital, crisp execution, transparency and visibility — not just from a supplier standpoint but by being able to tell customers exactly what they use and how much they use." The ability for salespeople to help prevent inventory loss means customers can trust them with other areas of their business, and for each product category, Fastenal has them covered.
Facing Forward
While every link on the industrial supply chain continues to evolve, there's a lot that remains the same.
According to Hicks, customers still want someone to help them take care of their inventory supply chain problems and, despite the tremendous value technology brings, "it only gets you halfway there."
The other half, at least for Fastenal, will always have a face behind it — either answering a customer's question in a branch or over phone or, nowadays, in an onsite capacity — tackling tactical needs on a day-to-day basis. It's not easy work, but it offers an attention to detail the "cheapest CEO in America" would no doubt admire.