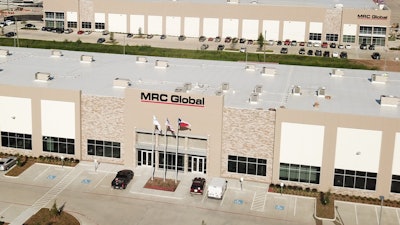 Houston-based pipe, valve and fittings distributor MRC Global reported its 2019 third quarter financial results on Thursday, in which the company noted weakened market conditions weighed on sales figures, and that MRC continued cost-cuttings actions started earlier this year.
MRC Global posted Q3 total sales of $942 million, down 12.0 percent year-over-year and down 4 percent from Q2. The company said that compared to a year earlier, sales decreased across all segments and end markets, while the sequential decline was driven by a decrease in the midstream sector, partially offset by a slight increase in the upstream and downstream sectors. In MRC's Q3 earnings release, president and CEO Andrew Lane noted that revenue was lower due to "progressively weaker market conditions and unusually low customer spending patters."
MRC had a Q3 net profit of $15 million, compared to $18 million a year earlier.
Lane went on to say that in 2019, MRC has executed cost reduction initiatives that included headcount reductions of 180 in Q3.
"This first phase of cost reductions is expected to yield annual savings of approximately $12 million, and we have more initiatives underway," Lane said, adding that the company's headcount is down 230 since the end of 2018.
By MRC's business segment in Q3:
Upstream sales decreased 15% year-over-year to $287 million, or 31% of total sales. The decrease in upstream sales was across all geographic segments.
Midstream sales of $370 million, or 39% of total sales, were down or 12% year-over-year. Sales to gas utility customers were flat for the quarter, while sales to transmission and gathering customers were down 26%.
Downstream sales of $285 million, or 30% of total sales, were down 8% year-over-year due primarily to the US segment.