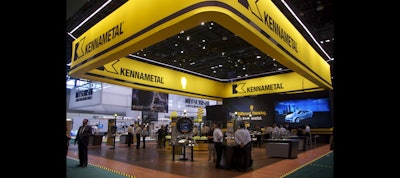 A handful of well-known industrial manfucturers reported their quarterly fiscal performance between Monday and Tuesday. Here's a roundup of the key facts and figures involved with each.
Kennametal
In reporting its 2016 Q4 and full year fiscals Tuesday, Pittsburgh-based Kennametal announced additional restructuring initiatives that include the reduction of 1,000 jobs over the next 15 months. The company said the headcount reduction will cost $80-$95 million and will save the company $100-$110 million by the end of fiscal 2017.
"Additionally, and consistent with our fix-in-place manufacturing strategy, we believe that there are further cost improvements possible through investments in productivity and efficiency programs which are expected to yield savings of several hundred million dollars over the next three years," said Kennametal President and CEO Ron De Foe.
Kennametal said that during Q4 it substantially completed phase 1 of its restructuring programs, which, which will provide ongoing annual savings of $40 to $45 million.
The announcements comes as Kennemetal reported Q4 sales decreased 18 percent year-over-year to $521 million and the company took a Q4 net loss of $66.1 million compared to last year's profit of $21.1 million.
Of that 18 percent sales decline, 9 percentage points were due to divestiture, while organic sales were down 9 percent.
Kennametal's Industrial segment sales declined 8 percent year-over-year, while Infrastructure segment sales decreased 31 percent.
For the full year, Kennametal's 2016 sales sunk 21 percent from 2015 to $2.09 billion. The company took a 2016 net loss of $225.9 million, compared to 2015's loss of $373.9 million.
Eaton
Ireland-based Eaton posted Q2 sales of $5.1 billion, down 5 percent year-over-year, while profit of $491 million declined 8 percent.
By segment in Q2:
Electrical sales of $1.8 billion were flat year-over-year, organic sales grew 1 percent and operating profit grew 15 percent.
Electrical Systems and Services sales of $1.4 billion, down 5 percent year-over-year. Organic sales were down 3 percent and operating profit was down 22 percent.
Hydraulic sales of $589 million were down 8 percent, with organic sales down 7 percent and operating profit down 21 percent.
Aerosapce sales of $447 million were down 2 percent, with organic sales flat and operating profit up 8 percent.
Vehicle sales of $831 million were down 16 percent, with organic sales down 14 percent and operating profit down 28 percent.
Generac
Waukesha, WI-based Generac posted Q2 sales of $367 million, up 27.4 percent year-over-year, while profit soared 41.2 percent to $20.9 million. The large increases were powered by the company's recent acquisition of Siena, Italy-based PR Industrial S.r.l., the parent company of generator manufacturer Pramac and other subsidiaries.
Generac's U.S. Q2 sales increased 11.1 percent, driven the company's acquisition of Country Home Products and increased shipments of home standby generators.
Excluding an $88.1 million from acquisitions, Generac's Q2 revenue was down 3.2 percent year-over-year.
International sales were $80.7 million in Q2, compared to $30.2 million a year earlier.
Rexnord
Milwaukee-based Rexnord reported Q1 2017 sales of $472 million, down 3 percent year-over-year. Organic sales declined 1 percent, excluding the 2 percent impact of the RHF product line exit. The company had a profit of $18.9 million, down from last year's $21.2 million.
During the quarter, Rexnord acquired Maryland-based metal conveying and engineered woven mesh solutions manufacturer Cambridge International.
Process & Motion Control Q1 sales of $264 million were down 3 percent year-over-year, with organic sales down 5 percent.
Water Management Q1 sales of $208 million, up 2.5 percent year-over-yera, with organic sales up 3 percent.