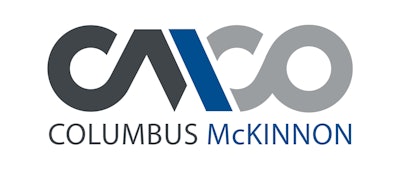 Amherst, NY-based Columbus McKinnon, a supplier of material handling products and services, reported its 2017 first quarter fiscal results on Thursday for the period ended June 30.
The figures were led by a 9.4 percent year-over-year rise in total sales, powered by the company's September 2015 acquisition of Magnetek.
Columbus McKinnon — which earlier this month announced the termination of its supplier relationship with Grainger — posted Q2 sales of $149 million, of which Magnetek contributed $23.9 million.
Q2 U.S. sales of $93.9 million — 63 percent of total — grew 15.1 percent from last year. Magnetek contributed $20.9 million of those sales. Sales outside of the U.S. grew 3.6 percent.
Columbus McKinnon had a Q2 profit of $6.4 million, down 7.4 percent year-over-year.
"We still believe the year will be challenging, but end markets appear to be stabilizing," said Timothy Tevens, company president and CEO. "Encouragingly, we believe that the North American market may have bottomed as oil prices and rig counts have stabilized and supporting industries seemed to have steadied.  However, even with our leading market positions, Latin America and Asia remain weak. The Brexit move has caused heightened uncertainty in Europe, but nonetheless, we will remain focused on our efforts to gain new customers, increase market penetration, advance our offerings and deliver quality product in a timely manner."