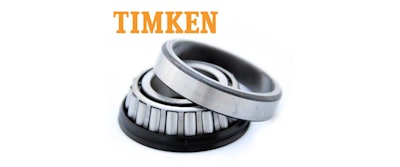 North Canton, OH-based bearings and power transmission products provider Timken reported its 2016 Q2 fiscal performance on Thursday, led by continued year-over-year decreases in sales.
Timken — which announced a $66 million acquisition of couplings maker Lovejoy on July 8 — posted Q2 sales of $674 million, down 7.5 percent from a year earlier and sequentially down 1.5 percent from Q1. Organic sales fell 5.8 percent.
The company posted Q2 profit of $44.9 million, up from last year's $36.7 million, but down sequentially from Q1's profit of $63 million.
"We performed well in the quarter despite challenging market conditions, generating strong cash flow and delivering double-digit operating margins," said Timken president and CEO Richard Kyle said. "We also continued to advance our strategic priorities including the recent acquisition of Lovejoy. While we expect our target markets to weaken further in the second half, we are maintaining our full-year adjusted earnings guidance primarily on the strength of our operational excellence initiatives."
Along with the Lovejoy acquisition, Timken said it recently closed a bearing plant in the U.K. and opened a new service center in Denver, CO for the repair of electric motors, generators and gearboxes.
By business segment:
Mobile Industries Q2 sales were $367.8 million, down 5.4 percent year-over-year and down 3.9 percent organically.
Process Industries Q2 sales were $305.8 million, down 9.9 percent year-over-year and down 8 percent organically.
Timken said it expects full-year 2016 sales to be down approximately 6 percent from 2015, with Mobile Industries down 6-7 percent (5-6 percent organic) and Process Industries down 5-6 percent (3-4 percent organic).