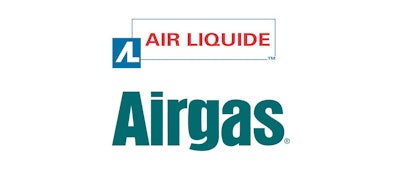 Paris, France-based Air Liquide reported its 2016 first half fiscal results on Monday for the period ended June 30, for the first time showing the financial impact of its recent $13 billion acquisition of Airgas — No. 9 on Industrial Distribution's 2015 Big 50 List.
Air Liquide posted first half sales of $9.27 billion, up 2.2 percent from a year earlier. Airgas sales, effective since the acquisition closing date of May 23, were $570. 5 million. Adjusted for currency and energy impacts, Air Liquide sales improved 8.0 percent, with 6.7 percent of that gain attributable to Airgas. Q2 total sales, including Airgas and excluding currency and energy impacts, improved 13.4 percent.
Air Liquide's Gas & Services sales of $8.51 billion (91.8 percent of total) increased by 4.3 percent year-over-year. Adjusted for currency and energy impacts, growth was 10.6 percent, with 7.0 percent attributable to Airgas.
Air Liquide said first half currency impact on total sales was negative 2.6 percent and energy impact was negative 3.7 percent.
Air Liquide's total first half profit of $905.5 million, down 4.5 percent from a year ago, mainly due to the $102.7 million cost related to the Airgas acquisition. Excluding that cost, profit rose 1.1 percent.
Air Liquide said that over the 2016-2020 period, it is aiming for revenue compound annual growth rate (CAGR) of 6 to 8 percent, including Airgas scope effect in 2017 that corresponds to CAGR of 2 percent.