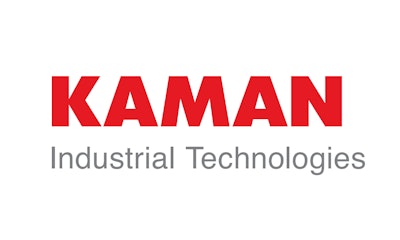 Bloomfield, CT-based Kaman Corp. reported its 2016 second quarter fiscal results on Thursday, led by a modest year-over-year sales increase and a large decrease in total profit.
The company posted Q2 sales of $470.6 million, up 5.4 percent from a year earlier, while profit of $16.5 million was down 23.9 percent.
Kaman's distribution business — Kaman Industrial Technologies (KIT) — had Q2 sales of $286 million, down 5.9 percent year-over-year, while operating profit of $13.8 was down 10.4 percent. Sequentially, however, operating profit was 31.9 percent higher than in Q1. Organic sales declined 2.1 percent in Q2, comparing favorably with a 7.7 percent decline in Q1.
"Our cost control measures, combined with productivity initiatives, allowed us to largely mitigate the negative impact of deleveraging normally associated with this level of decline in organic sales," said Kaman CFO Robert Starr.
KIT was No. 21 on Industrial Distribution's 2015 Big 50 List.
Kaman Aerospace continued its large sales gains with Q2 revenue of $184.6 million, up 29.7 percent year-over-year, while operating profit of $30.5 million improved 4.5 percent.