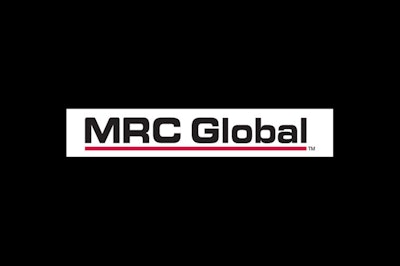 Houston-based MRC Global — No. 8 on Industrial Distribution's 2015 Big 50 List — reported its 2016 first quarter fiscal results on Monday for the period ended March 31.
The company posted Q1 sales of $783 million, down 39 percent year-over-year, and had a net loss of $14 million compared to a $29.1 million profit a year earlier. Sales were down 19 percent from Q4.
MRC's Q1 gross profit of $133 million was down from $220 million a year earlier. Q1 net loss was $8 million, compared to a $29 million profit a year earlier.
Sales in the U.S. plunged 38 percent year-over-year to $606 million, while sales in Canada sunk 46 percent. International sales declined 44 percent. By sector, upstream sales took a 58 percent dive, partially due to MRC's sale of its oil country tubular goods product line. Adjusted upstream sales were down 39 percent. Midstream sales were down 27 percent, including a 44 percent drop in sales to transmission customers. Downstream sales fell 25 percent.
"Despite a challenging first quarter, we remain focused on executing our strategy," said MRC president and CEO Andrew Lane. "We continue to retain and win customers, strengthen the balance sheet, manage operating costs and optimize working capital to align with current energy market conditions. The business continues to generate cash, having generated $58 million in cash from operations in the first quarter and in February, we closed the sale of our U.S. oil country tubular goods product line for $48 million."
MRC was able to reduce selling, general and administrative expenses by 14 percent in Q1 compared to last year due to cost reduction measures.