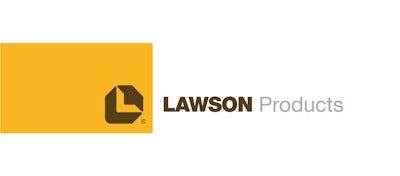 Chicago-based MRO distributor Lawson Products — No. 39 on Industrial Distribution's 2015 Big 50 List — reported its 2016 first quarter fiscal results on Thursday.
The company posted Q1 total sales of $69.7 million, essentially flat compared to $69.9 million a year earlier and up 7.2 percent from Q4. Average daily sales increased 2.3 percent from Q4, but decreased 1.9 percent year-over-year as there was one more selling day in Q1 2016 than 2015.
Lawson said sales were impacted by a general slowdown in the MRO marketplace, continued weak demand from oil and gas customers and a decline in the Canadian dollar compared to last year.
Lawson Products had a profit of $1.0 million in Q1, a rebound from a $1.4 million loss a year ago and a loss of $3.7 million in Q4. Operating income of $1.2 million in Q1 also rebounded from a loss of $0.9 million a year earlier.
"We have started 2016 with a solid first quarter," said Michael DeCata, Lawson president and CEO. "Sequentially, we realized improvements in our key customer metrics and our financial metrics including average daily sales, sales per rep per day, gross margin percentage and adjusted operating income.
"These results were achieved despite ongoing softness in the industrial market, the unfavorable Canadian exchange rate and continuing slow demand in the energy sector. And, while our adjusted operating income declined as compared to a year ago, it was directly driven by expenses associated with our sales force expansion, the weaker Canadian dollar and infrastructure enhancements."
The company net added 23 sales reps in Q1, ending March with 960. The company added only 21 sales reps in all of 2015. Lawson also completed its acquisition of Michigan-based Perfect Products, announced March 7.
"Growth remains our major focus as we continue to increase the number of sales representatives, integrate recent acquisitions, seek new acquisitions and drive for rep productivity," DeCata said.