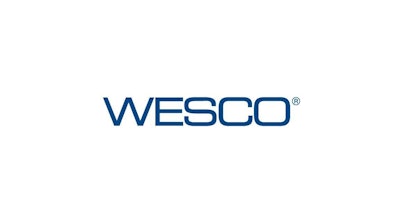 Pittsburgh-based WESCO International — No. 6 on Industrial Distribution's 2015 Big 50 List — on Thursday reported its 2016 first quarter fiscal performance, led by continued sales and profit declines.
The company posted Q1 total sales of $1.78 billion, down 2.2 percent year-over-year and down 4.3 percent from Q4. Organic sales declined 6.7 percent in Q1, while WESCO said currency headwinds hampered total sales by 2.6 percent.
Organic sales were down 6 percent in the U.S. and down 11 percent in Canada.
Meanwhile, total Q1 profit of $36 million was down 23.4 percent year-over-year and down 26.2 percent from Q4.
The declines follow a Q4 that saw a 7.0 percent total sales slide year-over-year, while profit sunk 35.0 percent.
"In line with our expectations, our first quarter sales declined 2 percent, reflecting continued weakness in commodity-driven end markets and foreign exchange headwinds," said John Engel, WESCO chairman, president and CEO. "While the top line remains pressured overall, the benefits of ongoing cost reduction and organizational streamlining actions partially mitigated the impact of lower sales on earnings per share."
WESCO reaffirmed its full year sales outlook of flat to 5 percent decline.