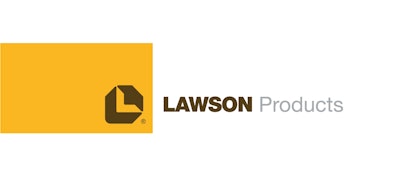 Chicago-based MRO distributor Lawson Products – No. 39 on Industrial Distribution's 2015 Big 50 List – reported its fourth quarter and full-year 2015 fiscal results on Thursday.
The company posted Q4 sales of $65.0 million, a 7.6 year-over-year decrease, and a 7.4 percent decline from Q3. Lawson said the decline was due to a general slowdown in the MRO marketplace, weak demand from oil and gas customers, and a decline in the Canadian dollar. Organic sales were down 3.2 percent year-over-year while average daily sales declined 7.6 percent.
Lawson took a net loss of $3.7 million in Q4, compared to a loss of $2.7 million in the same period a year ago. The company had a profit of $2.4 million in Q3.
"Lawson enters 2016 with a scalable infrastructure and in a strong financial position to further leverage our financial performance as we see improvements in the industrial sector," said Michael DeCata, Lawson president and CEO. "Top line growth continues to be a major focus for us and we continue to grow the number of sales representatives.
For the full year 2015, Lawson Product total sales of $275.8 million were down 3.5 percent from 2014, while profit of $0.3 million was down from 2014's $4.4 million.
"During 2015 we completed several Lean Six Sigma projects including the standardization of the training and on-boarding process for all new sales reps," DeCata said. "That effort has been well-received within the organization and should begin to produce benefits in the year ahead. We ended the year with 937 sales reps and expect to continue to increase that in 2016."