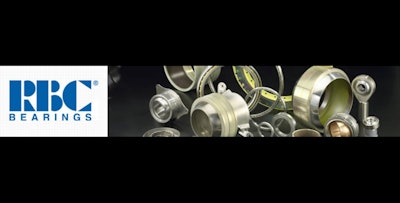 Oxford, CT-based RBC Bearings reported its 2016 third quarter fiscal results on Tuesday, posting solid sales and profit gains over the same period last year.
RBC, an international manufacturer of high-precision bearings and components the industrial, defense and aerospace industries, posted Q3 sales of $144.2 million, up 35.6 percent year-over-year. Its profit of $17.0 million was a 19.7 percent increase from a year ago, while its adjusted operating income increased 24.5 percent.
RBC said that its sales for the aerospace market increased 67 percent year-over-year in Q3. RBC acquired the Sargent Aerospace & Defense business of Dover Corporation for $500 million in March 2015.
"Our third quarter results demonstrate solid operating performance, while reflecting the typical fiscal third quarter seasonality from fewer production days due to the holiday season," said Dr. Michael J. Hartnett, Chairman and Chief Executive Officer. "Continued strength in the aerospace sector in both commercial OEM and aftermarket activity was partially offset by softness in some industrial markets."
The Sargent acquisition effect was illustrated by RBC's Engineered Products segment posting Q3 sales of $40.9 million a 470 percent increase over last year. RBC's Plain Bearings segment saw sales increase 19.3 percent, its Roller Bearings segment sales decrease 16.1 percent, and its Ball Bearings segment sales decrease 8.5 percent.
Through its first nine months of fiscal 2016, RBC's sales are up 31.1 percent from 2015, while its net profit is up 14.1 percent.