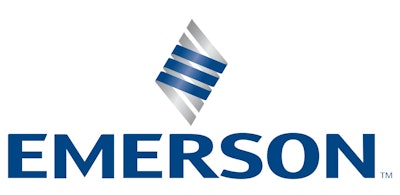 Global manufacturing and technology conglomerate Emerson reported its 2016 first quarter fiscal earnings on Tuesday, posting considerable sales declines across all business segments.
The St. Louis-based company had overall Q1 sales of $5.59 billion, down 16 percent from the same period a year ago, and down 9 percent organically.
Emerson's Q1 profit of $349 million was down 34 percent from last year's $525 million.
Like for most global manufacturing companies over the past year, Emerson said its first quarter results reflected continued challenging economic conditions in its customer markets as well as difficult comparisons.
"Lower oil prices continued to apply downward pressure on oil and gas spending, particularly upstream projects, as well as power generating alternators used in upstream applications," the company said in Tuesday's earnings release. "Demand in data center and telecommunications infrastructure spending was mixed. Global industrial spending remained weak and economic indicators suggest it weakened as the calendar fourth quarter progressed."
By business segment in Q1:
Process Management sales decreased 14 percent year-over-year, and 11 percent organically. "Persistently lower, but equally important uncertain, oil prices continue to impact both operational and capital spending by end customers in the energy sector," Emerson said. "In upstream markets, projects well under way will continue to completion, but the recent drop in oil and gas prices below $30 per barrel has placed even more pressure on future projects."
Industrial Automation sales decreased 30 percent, including 15 percent organically. Organic sales were down 23 percent in North America "The first quarter results reflected continued weakness in general industrial spending, upstream oil and gas markets and European demand," Emerson said. "Market conditions will remain difficult during the second quarter with an expectation for improvement in the second half of the fiscal year."
Network Power sales decreased 6 percent, with organic sales down 1 percent.
Climate Technologies sales decreased 13 percent, with organic sales down 10 percent.
Commercial & Residential Soltuions sales decreased 18 percent, with organic sales down 2 percent.
Emerson said it expects full year 2016 sales to decrease 6 to 9 percent, with a 2 to 5 percent decrease in organic sales. For Q2, it expects overall sales to decline 8 to 10 percent, with organic sales down 4 to 6 percent.
"As we have indicated, we expect to encounter strong economic headwinds throughout the majority of fiscal 2016 and these conditions demand we remain highly focused on controlling our costs, efficiently executing our portfolio repositioning and strategically investing in our business to best position Emerson for the return of favorable market conditions," said Emerson Chairman and CEO David Farr. 'With our priorities set for 2016, it's now up to us to execute."