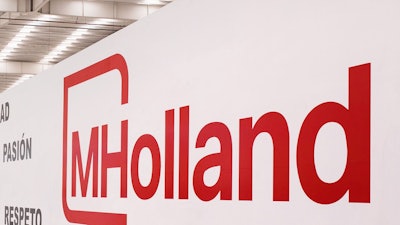 M. Holland
NORTHBROOK, Ill. — M. Holland Company, a leading international distributor of thermoplastic resins and ancillary materials, announced Tuesday that it has reached an agreement to partner with Ravago Group, a leader in polymer recycling and distribution.
As a result, Ravago Group will acquire a majority interest in M. Holland.
This transaction will enable M. Holland to accelerate its growth strategy, providing the company with greater scale and resources as the plastics industry continues to rapidly evolve. The founding Holland family will retain a significant stake in M. Holland, though no other financial terms of the transaction were disclosed. Following close of the transaction, M. Holland will continue to operate independently as a subsidiary of the Ravago Group family of companies.
M. Holland's existing management team, including Ed Holland, CEO and chairman of the board, and Marc Fern, president and COO, will continue to lead the company.
"This transaction is an important inflection point for M. Holland as it places the company on a clear path to continued and long-term success," said Holland. "Following an exhaustive review of strategic paths, we determined the best way to serve our stakeholders and set up M. Holland for success over the next 70 years was to partner with an organization that shared our passion for employees, customers and suppliers. Ravago Group is that partner. This is a rare opportunity for two strong, family-owned organizations to come together in a way that will ensure our customers get what they need, when they need it for years to come."
Ravago Group is a global plastic production and distribution company, which specializes in polymer and chemical distribution, building materials, recycling and raw materials. Ravago Group operates through three core activities, handling distribution, resale and manufacturing, all of which is supported by its excellent business services and supply chain solutions.
Ravago Group has operations in more than 325 locations across North America, Asia, Africa and Europe, with its American headquarters located in Orlando, Florida.
"M. Holland is a well-known and respected name in the plastics industry, and we are thrilled to welcome Ed and his entire team to the Ravago Group family of companies," said Jim Duffy, president and chief executive officer of Ravago Holdings America. "We are confident we will be able to provide M. Holland with the resources and capital necessary to scale the business and sustain its growth, all the while maintaining its strong culture and brand."
"This combination is an exciting moment for M. Holland," said Fern. "Partnering with Ravago Group, a global company that shares our values, is the best possible option for M. Holland to retain our strong brand, while also positioning ourselves for the next phase of growth."
The proposed transaction is subject to customary closing conditions, including the receipt of applicable regulatory approvals.