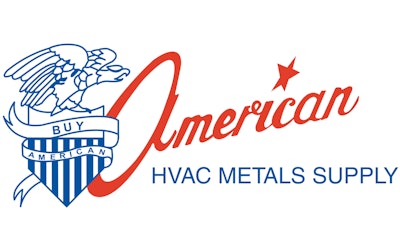 ST. LOUIS — ButcherJoseph & Co. announced that is served as the exclusive financial advisor to American Metals Supply Co. Inc. on its sale to MacArthur Company, a 110-year-old employee-owned building products distributor.
American Metals Supply is a leading wholesale distributor of sheet and coil steel, prefabricated duct & fittings, and a complete line of HVAC products. Since 1962, American Metals Supply has focused on providing top-quality products and service to its customers. Today, with nine branch locations, American Metals Supply is distributing products in twelve states. The transaction closed on May 1.
Founded in 1962 by Al Hassebrock in Springfield, Illinois, American Metals Supply experienced substantial growth under three generations of family leadership, positioning itself as a prominent player in the HVAC distribution industry. In 2006, Chrissy Nardini assumed the role of president, succeeding her father, Steve Hassebrock. Under Nardini's leadership, AMS expanded its operations considerably, opening branches in Kansas, Oklahoma, Indiana and Texas. The company has cultivated a reputation for fostering a positive work environment and actively investing in local communities.
"We looked for a buyer who would enable us to keep our focus on our product mix, which is one of our key differentiators, and not have any duplication in locations. MacArthur Company provides us with a compatible culture fit, strong financial fundamentals, and the ability for future employees to continue to achieve financial success," Nardini said.
"American Metals Supply shares our approach to business, with a commitment to consistent, stable growth by providing exceptional customer service and the desire to manage an organization that focuses on long-term retention of engaged team members," said Barrett Moen, CEO of MacArthur Company. "We both have a strong heritage as successful distribution businesses that share an understanding of what it means to be industry leaders. With the acquisition of AMS both companies will be able to provide our customers with an enhanced portfolio of products."
Steve Hassebrock, who played an integral role in the company founded by his father, will transition out of AMS as a result of this transaction. Reflecting on his tenure with the company, Hassebrock said, "It has been both an honor and a privilege to have worked here for the last 52 years, and I have witnessed phenomenal growth and a magical transformation of a company that had a very humble beginning, and our future has never looked brighter."
Joseph Strycharz, co-founder and managing partner of ButcherJoseph, added, "Our mission is to deliver results that align with our clients' objectives. We understood how important it was to find a buyer that would allow the AMS legacy, business model and employee base to continue to thrive. We have full confidence that MacArthur Company will provide an excellent home for AMS."