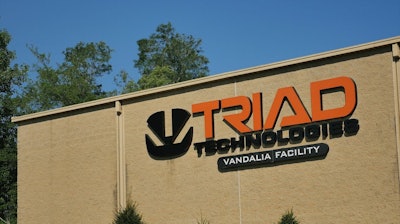 Triad Technologies
Shorehill Capital LLC announced Thursday that it acquired an ownership interest in Triad Technologies, in partnership with the company's management team and the Wissman family.
Headquartered in Vandalia, OH, Triad is a value-added distributor of industrial fluid power and automation solutions, supplying products that solve its customers' technical challenges across hydraulic, pneumatic, electromechanical, filtration, and automation technologies. The company has more than 7,000 active customers served through twenty-one locations across Ohio, Kentucky, Michigan and Indiana. 
Triad was founded in 1981 by Lee and Rita Wissman. Their son, Doug Wissman, joined the company in 1984 and was promoted to chief executive officer and president in 2001. Since that time, Doug has led the company through transformative growth, including five strategic acquisitions and numerous branch location openings. In conjunction with Shorehill's recapitalization, the Wissman family has retained a significant ownership position in the company, and Doug Wissman will join the company's board of directors.
"We are absolutely thrilled to have identified a partner who is deeply experienced in both fluid power and family-owned and operated businesses," Doug Wissman said. "We genuinely look forward to a long and successful relationship with the Shorehill team."
Shorehill has extensive investment experience in value-added distribution companies serving industrial fluid power and related markets. Shorehill also has a successful track record of supporting family-owned businesses and entrepreneurs. In 2019, Shorehill was named to Inc. magazine's inaugural list of Top 50 Best Private Equity  Firms for Entrepreneurs. "Shorehill is excited to partner with the Wissman family and Triad management team to build upon the Company's 38-year history of collaboration with vendors to provide high-quality products and support services to its growing customer base," said Charlie Denison, Principal at Shorehill Capital. 
Twin Brook Capital Partners and Maranon Capital, L.P. provided financing. Katten Muchin Rosenman LLP served as legal advisor to Shorehill. Terms of the transaction were not disclosed.
Shorehill is a Chicago-based private equity firm focused on making control equity investments in North American engineered industrial product, industrial service and value-added distribution companies with enterprise values up to $150 million.