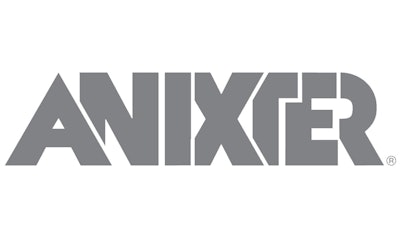 Electrical wiring and cable products distributor Anixter International announced Wednesday that it has agreed to be acquired by an affiliate of private investment firm Clayton, Dubilier & Rice (CDR) in an all-cash transaction valued at approximately $3.8 billion. The move will make Anixter a private company, with the transaction expected to close by the end of the first quarter of 2020.
"We believe this transaction is in the best interest of Anixter and our stockholders," said Bill Galvin, Anixter's president and chief executive officer. "After careful and thorough analysis, together with our independent advisors, our board of directors unanimously approved this transaction with CD&R, which has a strong reputation and a track record of success in helping industrial distributors, like Anixter, prosper and grow. We are also pleased that this transaction appropriately recognizes the value of Anixter's customer relationships, technology and solutions, financial management and global market position. It's a great outcome for Anixter's employees, customers and partners. As a private company, we believe Anixter will have greater flexibility to focus on and accelerate our long-term strategic priorities."
Glenview, IL-based Anixter — which was a mainstay on Industrial Distribution's annual Big 50 List until selling off its OEM Fasteners division in 2015 — describes itself as a global distributor of network & security solutions, electrical & electronic solutions and utility power solutions. The company stated Wednesday that it has approximately 130,000 customers; nearly 600,000 products; more than $1.0 billion in inventory; 316 warehouse/branch locations with more than 9.0 million square feet of space; and locations in more than 300 cities and approximately 50 countries.
"We weren't looking to go private," Galvin said in a conference call with analysts Wednesday morning. "We were running the company as a public company and we're prepared to do that. We've been very public about what our strategy is long-term and we were approached by a company that we felt was a serious — seriously interested in our company. And of course, it's our responsibility, our fiduciary responsibility to consider serious companies. And that is how we started in this venture."
Anixter had 2018 total sales of $8.4 billion, up approximately 6 percent from 2017. The company also reported its 2019 third quarter financial results on Wednesday, led by Q3 sales of $2.22 billion that increased about 2 percent year-over-year and net profit of $59.3 million that increased 25 percent.
The acquisition news is just the latest major distributor purchase in recent years for CDR. In August 2017, the firm acquired HD Supply's Waterworks division and rebranded it as Core & Main shortly after. In December 2017, ADP acquired hydraulic and fluid power products distributor SunSource, which was No. 17 on Industrial Distribution's 2018 Big 50 List. Five months later, SunSource acquired Ryan Herco Flow Solutions — No. 41 on Industrial Distribution's 2017 Big 50 List, and then bought United Distribution Group — which operates through subsidiaries GHX Industrial and United Central Industrial Supply and was No. 24 on ID's 2017 Big 50 List — that following July.
Nate Sleeper, partner at CD&R, commented Wednesday, "Anixter is an exceptionally well-positioned industrial distributor with leading market positions and differentiated capabilities that deliver strong customer value. We look forward to partnering with the outstanding management team, led by Bill Galvin, on initiatives to grow the business and further strengthen its competitive position while maintaining Anixter's distinctive culture grounded in operational excellence, innovation, and an unwavering commitment to the company's employees, customers, and global partners."
CDR said that it is expected that upon completion of the transaction, Galvin and other members of Anixter's executive team will continue to lead the company. The transaction is subject to the approval of Anixter's stockholders, regulatory approvals and other customary closing conditions.