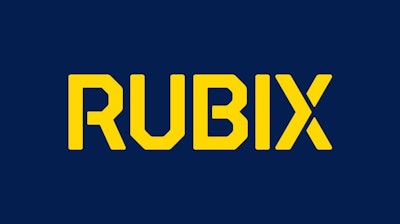 London-based Rubix, which brands itself as the Europe's largest supplier of industrial MRO products announced two acquisitions between Wednesday and Thursday — one in the UK and one in France.
Rubix said Thursday that Rubix France has acquired J. Le Corvasier and HPE, which is based in northeast France. Operating from three locations, the company provides technical services in the areas of mechanical and fluid power transmission and mechatronics, while also engineering, supplying and maintaining related systems for customers. It has annual sales of approximately $20 million and 69 employees.
Rubix said Wednesday it has acquired Peter Campbell Sales (PCS), which operates two sites between Airdirie, Scotland and North East England near Glasgow. A specialist in providing metal cutting tools, PCS also manages around 70 industrial vending machines and had sales of approximately $1.3 million over the past 12 months. It's main customer segments are in oil & gas, aerospace & defense, automotive and precision machining.
Rubix said adding PCS gives it the opportunity to consolidate its leadership in the UK specialist cutting tools market — a key growth area for Rubix' UK business — following the 2018 acquisition of Matrix Tooling Services.
"This acquisition supports our ambition to be recognized as a preferred supplier with the technical expertise and network in place to provide a multi-specialist range of products, services and solutions," said Mark Dixon, Rubix UK CEO. "It is further evidence of our status as the consolidator of choice for the industrial distribution market in Europe. I am pleased to welcome the PCS team, customers and suppliers into the Rubix family and further reinforce our position as a leader in the UK cutting tools market, by not only expanding our product offering to customers, but also providing strength in depth in both our technical expertise and services."
On Oct. 15, Rubix announced the acquisitions of northeast Italy-based DCF and EGA Tecnic, both which specialize in distributing mechanical power transmission products and have combined annual sales of $11 million. DCF's region is the province of Verona, while EGA Technic operates in the province of Trento, Bolzano and Belluno.
Rubix' website states the company has 650+ locations across 22 countries, and that it had $2.56 billion in 2018 sales. The company was formed less than a year after the 2017 merger of IPH and Brammer, which was then rebranded as Rubix in June of 2018.