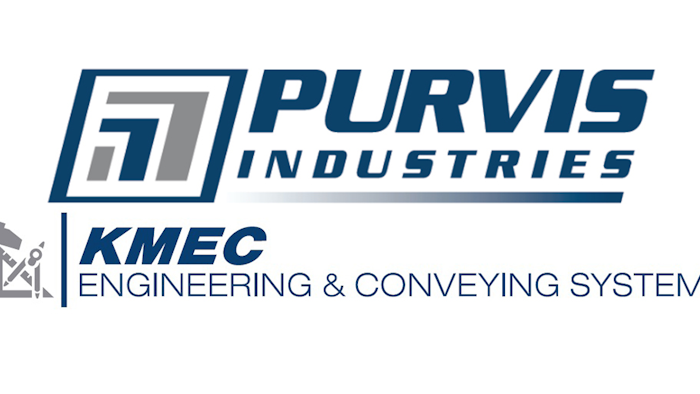 DALLAS, TX — Purvis Industries announced Monday that KMEC Engineering & Conveying Systems, a wholly owned subsidiary of Purvis Industries, has acquired the assets, trademarks, brand rights, patents, and intellectual property of TWE dba PICOR.
Johnson City, TN-based PICOR is a design and engineering company in bulk material truck and train precision loading systems. PICOR also produces telescoping chutes, mass flow gates, diverter gates, clamshell gates and slide gates. In conjunction, KMEC is also excited to welcome Tony Walker – the President and head engineer of PICOR – to the KMEC team. Tony and PICOR have developed some of the most innovative state-of-the-art solutions in the bulk material handling industry today.
Tony is responsible for the development of patents for multiple batch systems, methods for loading railcars of a wide range of capacities and designs, coal loading systems, and variable height silo charging systems. He is also the designer of the Walker Reclaimer which revolutionizes the storage and reclamation of bulk material stockpiles with less equipment and significantly reduced operating costs. Tony will be working with the team to further develop PICOR designs and integrate them into KMEC's complete bulk material handling solutions.
PICOR will operate inside the KMEC Engineering and Conveying platform, providing and expanding our material flow and loading solutions.
"We believe that PICOR will greatly expand both the market reach and total system capabilities of our KMEC business by adding unparalleled expertise in truck and train loading systems, as well as the integration of the new Walker Reclaimer. This is a great step forward for KMEC and Purvis Industries," said Cameron Barker, Vice President of Corporate Operations for Purvis Industries.
Purvis Industries is headquartered in Dallas, TX and is one of the largest independent bearing and power transmission distributors in the U.S. with 90 locations covering 15 states. Started in 1945, they have implemented an independent distribution model that has created year over year growth and a loyal following of customers throughout multiple regions of the U.S., including the South, Southwest, Rocky Mountains, and Central Mississippi River Valley. Purvis Industries serves their customers with local inventory and extraordinary technical expertise as well as an unwavering dedication to the continued success of our customers.