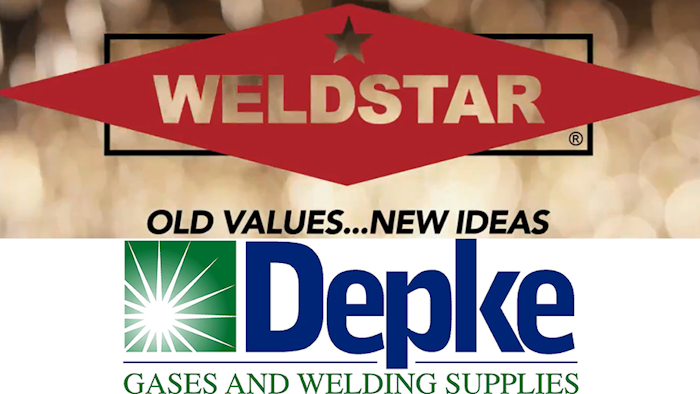 AURORA, IL — Weldstar and Depke Gases and Welding Supplies have completed a merger. Depke continues its operations as a subsidiary of the Weldstar Company with Curt Towne continuing as Depke President.
The merger between Depke and Weldstar will combine Weldstar's four locations with Depke's three locations. Towne will oversee Depke's three central Illinois locations. He will also serve on the management team and Board of Directors of Weldstar.
"The merger with our good friend Curt Towne brings together two like-minded companies and allows us to add members of a talented staff at Depke, most notably Curt, to our team," expressed Weldstar branch manager J.B. Winkle.
"The possibilities that come with a Weldstar-Depke merger are extremely exciting," Towne added on behalf of Depke. "The combined personnel, geography and capabilities make us a formidable regional player. My family and I couldn't be more thrilled to join forces with the Winkle family in their highly respected and successful company."
Depke was established in 1928, and Weldstar in 1936. Depke is headquartered in Danville, IL and serves the central Illinois market. Weldstar is headquartered in Aurora, IL and serves the northern Illinois, northern Indiana and southern Wisconsin markets. Both companies have and will continue to serve the welding supply, gas and specialty gas markets. The combination of two companies will allow the new venture to leverage talent, technology and logistics. Weldstar and Depke will continue to look for growth opportunities where it makes sense.
"We believe the time is right to explore new growth opportunities," Winkle added.