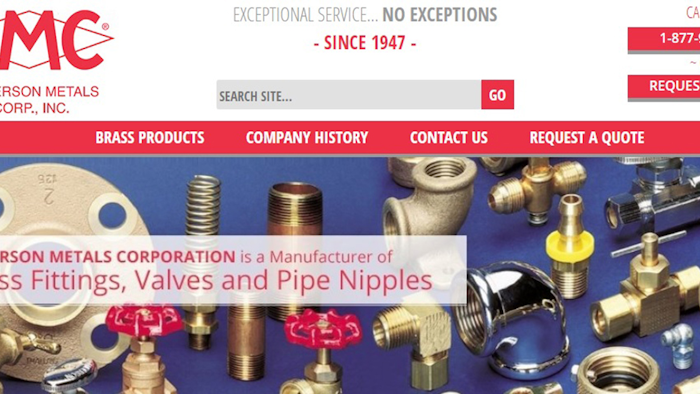 ROSEMONT, IL — Wynnchurch Capital, LLC, recently announced that it has completed an investment in Anderson Metals Corporation, Inc. Anderson is a manufacturer of brass fittings, valves, pipe nipples and related products to the plumbing, hardware and general industrial end-markets. The company is headquartered in Kansas City, MO and was founded in 1947.
"Anderson has built an outstanding reputation and strong leadership position in its industry during the past 70 years," said Chris O'Brien, managing partner at Wynnchurch. "We feel very fortunate to partner with Keith and Kent Anderson going forward. In addition, we believe this is an ideal opportunity for Paul Ciolino, a Wynnchurch Operating Partner and former CEO of US Pipe, to work with management and leverage his leadership, industry expertise and relationships to take Anderson to the next level." Greg Gleason, Managing Director at Wynnchurch added, "We are excited to invest in Anderson and to build on the Company's history of success.  We believe that Anderson's focus on providing customers with industry leading quality, availability and service, combined with Wynnchurch's experience, positions Anderson to be a strong platform for growth."
Anderson Metals Corp. supplies more than 12,000 SKU's across a variety of categories including lead-free and leaded brass fittings, valves, pipe nipples, non-metallic fittings and assorted parts and accessories. 
"We are thrilled to partner with Wynnchurch at this important point in Anderson's history," Kent Anderson said. "With new capital, resources, support and tools, we are confident the future for Anderson has never been brighter."
"We knew right away that Wynnchurch was the right partner," Keith Anderson added. "We are excited to work closely with Paul and the team to significantly grow the business both organically and through acquisitions."
Wynnchurch Capital is actively investing from its $1.3 billion Fund IV. In November 2017, Wynnchurch acquired America II, a global leader in electronic component distribution and supply chain services serving a broad array of products for use in higher value-add applications across diversified end-markets.  Other recent Wynnchurch investments include Stampede Meat, a processor and distributor of portioned, marinated and cooked beef, chicken, and other protein products for restaurants, retail, home delivery and other channels; and Rosboro Company, LLC, a leading integrated forest products operation producing a wide variety of products including laminated beams, studs, and veneer.  
Headquartered in the Chicago suburb of Rosemont, IL, with offices in California and Canada, Wynnchurch Capital is a middle-market private equity investment firm founded in 1999.