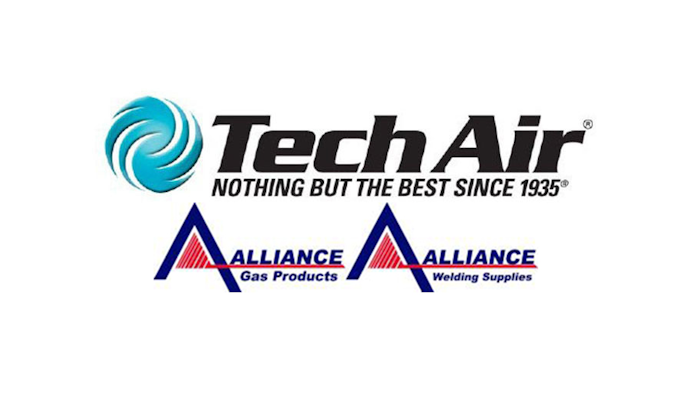 DANBURY, CT — Tech Air, a Connecticut-based distributor of industrial, medical, and specialty gases and related equipment and supplies, announced today that it has reached a definitive agreement to acquire Alliance Welding Supplies, Inc., a distributor of industrial gases and welding supplies located in San Jose, CA. Alliance will be operated as a new subsidiary of Tech Air of California. Terms of the transaction were not disclosed. The transaction is expected to close at the end of 2017. Tech Air is owned by CI Capital Partners and Tech Air management. The acquisition of Alliance will be Tech Air's 23rd add-on acquisition under CI Capital's ownership.
Alliance was founded in 2002 by Marvin Rodgers III in San Jose, a short distance from his father's business, Alliance Gas Products, and his mother's business, Mavry Welding Supply, in Oakland. In 2011, the Rodgers family merged their independent, Bay Area businesses to create the largest independent distributor of industrial, specialty, bulk and cryogenic gases, welding supplies and safety equipment in the San Francisco Bay Area and the largest independent gas distributor in Northern California. Marvin Rodgers III is the President of Alliance and will continue to serve in that capacity after the completion of the transaction. Rodgers III will retain a significant investment.
Myles Dempsey, Jr., Chief Executive Officer of Tech Air, said, "The partnership with Alliance will establish a significant presence for Tech Air in the Bay Area, a region in which we have long sought entry. We look forward to joining forces with the Alliance team and to supporting their continued success."
"Alliance has always been focused on growth. We welcome the resources and support that a partnership with Tech Air can provide to continue our aggressive expansion strategy in Northern California," added Marvin Rodgers III.
Joost Thesseling, Managing Director at CI Capital, said, "Through 23 add-on acquisitions, Tech Air has established a significant presence in multiple regions across the United States, creating a company with operations coast-to-coast. We remain committed to supporting the company and its acquisition strategy."