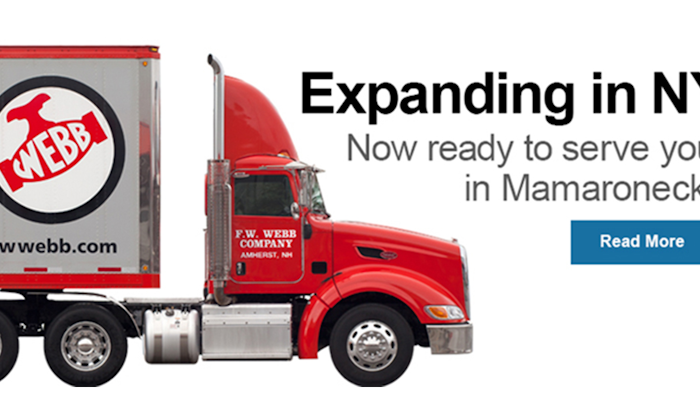 BEDFORD, MA —  F.W. Webb Company, No. 18 on Industrial Distribution's Big 50 List, is adding another location in New York with the acquisition of Harbor Plumbing & Heating Supply in Mamaroneck. A single-location wholesaler serving residential and commercial contractors for the past 17 years, Harbor Plumbing & Heating Supply is a family-owned business like F.W. Webb Co., with both known for exceptional products and customer service.
"Today's acquisition is another important step forward as F.W. Webb continues bringing products and services to meet the needs of contractors and industry professionals across our expanding southern territory," F.W. Webb President Jeff Pope said. "F.W. Webb welcomes the opportunity to serve the contractors of southern New York and to become established across Westchester County."
Mamaroneck, NY is the 16th F.W. Webb location in the southern tier of its Northeast operating region (NY, NJ, PA). The company is also growing in New Jersey with the recent acquisition of Master Wholesale Supply in Vernon and the opening of a 90,000-square-foot regional hub in Piscataway. As is customary when F.W. Webb acquires a company, concerted efforts are made to retain all impacted employees who are interested in joining F.W. Webb.
Founded in Boston in 1866 by an entrepreneur from New Jersey, F.W. Webb Company has a long heritage of serving residential, commercial, industrial and institutional customers with their construction, renovation, maintenance, repair, and operational product needs. The largest distributor of its kind in the Northeast, F.W. Webb has extensive inventory and expertise in 15 distinct areas. Plumbing, Heating, HVAC/R, and PVF are the company's core businesses. Specialty markets include LPG equipment, Fire Protection and fabrication, Pumps and certified pump repair, High Purity Process, Process Controls, Water Works, and Environmental Services.