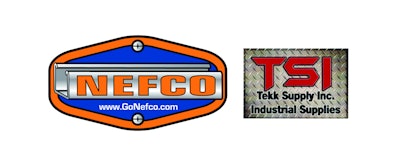 HARTFORD, CT — The NEFCO Corporation, an independent distributor of electrical, mechanical, HVAC and sprinkler products, has announced the opening of its first Florida branch in the greater Miami/Ft. Lauderdale metropolitan area after acquiring the operating assets of Tekk Supply, Inc. The acquisition enables NEFCO to expand its market reach into South Florida.
Tekk Supply is a full-service, contractor-focused supply company stocked for the construction trades. TSI has significant experience supplying construction professionals in South Florida.
"The growth of the NEFCO brand into South Florida allows us to leverage our breadth of product and value- added services to general and specialty contractors throughout the East Coast," NEFCO president and CEO David Gelles. "Our strength as a leading distributor to the construction trades lies in both our ability to deliver product solutions to the jobsite when it's promised and in our diverse product offerings, both unmatched in the industry. The Tekk Supply acquisition gives us a foothold into South Florida."
Headquartered in Hartford, CT, NEFCO has distribution centers located in Boston, Hartford, New York City, Albany, Philadelphia and Washington D.C. These strategically located branches ensure next day delivery. The company is a distributor of strut, threaded rod, pipe hangers, fasteners, tools, safety supplies, abrasives and onsite supplies. NEFCO complements its product breadth through a suite of value-added services via its construction supply, rental, tool repair and engineering services divisions.