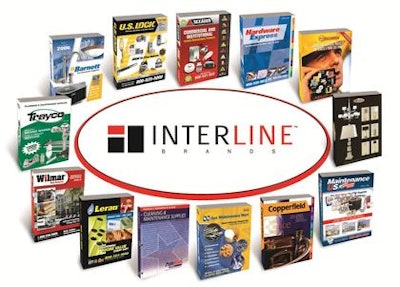 Jacksonville, FL - Interline Brands, Inc., a leading distributor and direct marketer of broad-line maintenance, repair and operations products, today announced that it has entered into an agreement to acquire JanPak, Inc. ("JanPak") for $82.5 million in cash, subject to working capital and other closing adjustments. The acquisition is expected to close before the end of this year and will be financed with borrowings under Interline's existing senior credit facility.
Founded in 1945 and headquartered in Davidson, North Carolina, JanPak is a large regional distributor of janitorial and sanitation supplies and packaging products. JanPak primarily serves property management and building service contractors as well as manufacturing, healthcare and educational facilities through 17 distribution centers across the Southeast and South Central United States. For the twelve-month period ended October 31, 2012, JanPak generated approximately $232 million of sales, approximately $2.2 million of net income, and approximately $8.8 million of Adjusted EBITDA(1).
"I am excited to welcome JanPak into the Interline family. JanPak is a well-run business with a deep and talented team that has built a leadership position in the Southeast JanSan market," said Michael J. Grebe, Interline's Chairman and Chief Executive Officer. "This acquisition represents another step forward in our strategy to expand our footprint and scale in the stable and attractive institutional market, and further enhances our position as the largest national, broad-line JanSan platform in the United States. Importantly, this transaction provides us with the opportunity to bring significant value to our stakeholders by expanding our product and customer portfolio, enhancing our competitive position, and driving meaningful synergies over time."
Tim Feeheley, President of JanPak commented, "By bringing together JanPak's core values and culture, along with our problem-solving and product system capabilities, with Interline Brands' larger product offering, scale, platforms, and systems, I am confident that we will deliver to our customers even broader capabilities and enhanced service."
(1) The financial information relating to JanPak has been derived from the unaudited historical financial information of JanPak provided to Interline and has not been audited or reviewed by our independent registered public accounting firm. The financial information may not be indicative of future performance or results. Adjusted EBITDA is defined as net income adjusted to exclude interest expense, income taxes, depreciation and amortization, share-based compensation and certain other non-recurring expenses.
About Interline
Interline Brands, Inc. is a leading distributor and direct marketer with headquarters in Jacksonville, Florida. Interline provides broad-line MRO products to a diversified customer base of facilities maintenance professionals, professional contractors, and specialty distributors primarily throughout North America, Central America and the Caribbean. For more information, visit the Company's website at http://www.interlinebrands.com.
Recent releases and other news, reports and information about the Company can be found on the "Investor Relations" page of the Company's website at http://ir.interlinebrands.com/.
About JanPak
JanPak, Inc. is a leading regional supplier of cleaning and packaging solutions to the places people work, learn, heal, and manufacture goods. Through its 17 distribution centers, fleet of delivery vehicles and on-line ordering and customer support capabilities, JanPak's associates are committed to providing local sales, customer care, and distribution services to customers located in the Southeastern, Mid-Atlantic, and South Central United States. And, through distinguishing capabilities like QLSS™, CleanZone™, JanPak Academy™, JanPak is there to help customers succeed where they are needed most.