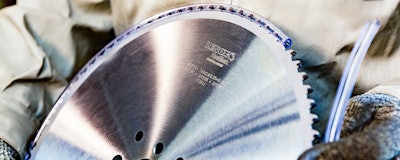 EAST LONGMEADOW, MA — LENOX introduces the CircTech Precision CM 100 Circular Saw Blade, a new product in the LENOX industrial circular saw blade lineup, designed for optimal performance when cutting carbon steels and mild alloys.
Beneficial in a variety of industries including steel service centers, machine job shops, automotive and aerospace, the new LENOX CircTech Precision CM 100 Circular Saw Blade features:
Long Blade Life. The LENOX CircTech Precision CM 100 Circular Saw Blades' cermet tooth tips help to withstand heat and offer wear resistance, while a honed tooth edge helps to reduce noise, tip fractures, and extends blade life.
Straight cuts and excellent finish. The CircTech CM 100's unique tooth geometry maximizes cutting efficiency and provides straight cuts with a mirror-like finish. An optimized, radius-shaped chip breaker helps eliminate weak points in high-stress areas on the blades' tip, providing durability to the teeth, resulting in straight cuts and an excellent finish.
Consistency. Plates are laser cut and expertly flattened, while an advanced tensioning system maintains plate flatness and keeps tight tolerances. Precise grinding, plate flatness and balance offer consistency and high performance, cut after cut. Run out and flatness are considered among the best in the industry.
LENOX CircTech Precision CM 100 Saw Blades can be purchased at LENOX industrial products distributors. To locate a distributor near you: http://www.lenoxtools.com/Pages/WhereToBuy.aspx ​