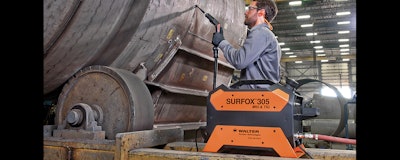 WINDSOR, CT — Walter Surface Technologies, the global provider of surface treatment technologies, recently introduced the SURFOX 305, a patented electrochemical MIG and TIG weld cleaning system that is now safer, faster, and more user-friendly.
The SURFOX 305 works fast to remove heat tint from the heat-affected zone of MIG, TIG, and spot welds on stainless steel and aluminum making it the most versatile weld cleaning system to date. It cleans the surface without disrupting passivation on stainless steel or altering the surface finish, and its dynamic current control protects the surface against micro-pitting. With an integrated tank and flow-through system, the SURFOX 305 delivers the electrolyte solution directly to the workpiece to minimize the risk of spillage or cross-contamination.
Designed to streamline weld cleaning operations and minimize downtime, the SURFOX 305 offers unsurpassed ease of use and functionality. Its exclusive quick-change brush system allows users to change out accessories easily, and its brushes are designed to clean large and hard-to-reach areas. Other industry-leading features of the SURFOX 305 include an AC mode for cleaning and marking, a DC mode for polishing and etching, and a built-in vapor dispersion system.
The SURFOX 305 MIG and TIG weld cleaning system is now available. For more information, visit walter.com.
Walter Surface Technologies provides solutions for the global metalworking industry. From high-performance abrasives, power tools and tooling to industrial parts washing systems, cleaners, degreasers and lubricants Walter focuses on helping its customers work better. Founded in 1952, the company is established in seven countries throughout North America, South America and Europe. International headquarters is in Montreal and U.S. headquarters is located in Windsor, CT.