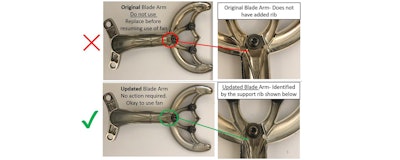 HD Supply — No. 5 on Industrial Distribution's 2018 Big 50 List — is recalling 144,000 ceiling fans after receiving more than a dozen reports of blades falling.
The company is voluntarily recalling 12 models of the 52-inch seasons ceiling fan with specific markings on the metal blade arms. No other HD Supply or Seasons fans are part of the recall.
The recall states that brackets connected to the fan blades can break, allowing the blades to fall and pose an impact hazard. HD Supply has received 13 reports of such instances, including one report of minor property damage. No injuries have been reported.
The fans were sold at HD Supply stores nationwide and online from March 2016 through February 2018 for between $60 and $140.
HD Supply says an investigation found the faulty cause was related to a component selected by the manufacturer, Taishan Sigma of China. They were produced between January 2016 and July 2017. According to HD Supply, the issue has been corrected, and HDS is procuring replacement blade arms that will be sent to impacted customers upon request. HD Supply is contacting all known purchasers directly.
The recall was also shared by the United States Consumer Product Safety Commision.