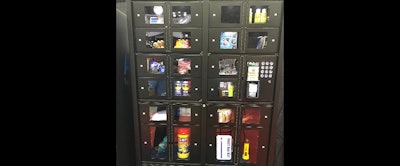 MEMPHIS, TN — 1sourcevend, in response to customer requests, has added check-in/check-out capabilities to its Automated Vending Manager locker vending machines, allowing for better inventory control of high-value, returnable items such as power tools, laptops, radios, safety equipment and more.
The check-in/check-out feature, which now comes standard with any locker-style vending machine, gives customers better inventory control while providing immediate, 24-7 access to mission-critical items, all without the need for additional tool crib personnel.
This feature is powered by 1sourcevend's simple but powerful cloud-based inventory-control software. Customers can store items securely and identify who has checked them out last, improving accountability and encouraging responsible use.
With the addition of this feature, distributors providing locker machines for their customers add to the user benefits that vending provides, strengthening their value proposition and empowering their sales teams. Visit 1sourcevend.com to learn how distributors offering 1sourcevend's industrial point-of-use vending system are capturing more business, increasing customer stickiness and competing on more than just price.