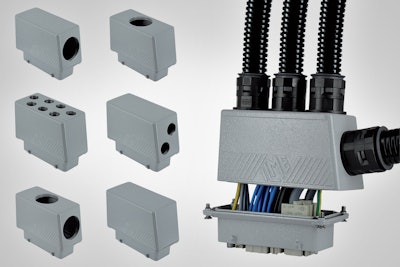 OAKWOOD, GA — Mencom has announced new rectangular hoods that will meet the demanding requirements of the wiring market. The new hoods, named BIG Series, feature larger dimensions than the standard hoods, provide additional space, and accommodate larger sizes of cables and additional entry holes. The size of the new enclosures is 23mm wider and up to 34mm higher than the current enclosures. Despite the larger sizes, the BIG hoods are still fully compatible with the existing rectangular connectors and accessories.
The hood compartment is designed with an upper and lower half connected by 4 screws with o-rings, providing easy access during assembly. This feature provides up to three times more space compared to the standard hoods. Big enclosures enable the connection of push button selectors, switches and signaling lamps after the necessary holes have been drilled. For example, it is possible to enable power supplies or signaling circuits even after the connector has been coupled.
The hood entry is available in one or more top & side entries and a closed enclosure that can be drilled. The hoods with size 44.27 fit only with the single lever. The larger size hoods fit bases with two levers. The BIG series is IP66 rated after the hood has been coupled with appropriate rectangular base and cable glands.