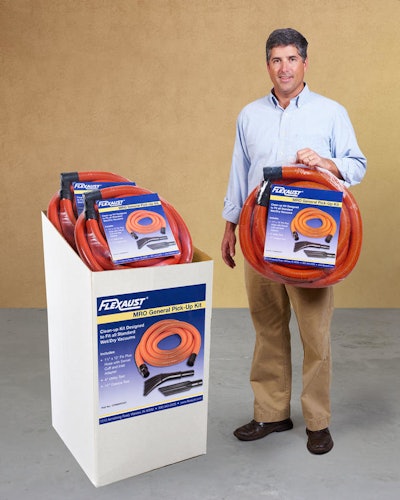 WARSAW, IN — A new MRO vacuum cleaner hose kit that includes a rugged hose with a swivel, cuff and inlet adapter, and utility and crevice tools along with a compact POP display are being introduced by Flexaust.
The Flexaust MRO General Pick-Up Kit (Part # COMMROKIT) features a rugged 1-1/2" x 12 ft. flexible hose with a swivel, cuff, and inlet adapter plus a 4" utility tool and an 11" crevice tool all packaged in a clear polybag. Developed to fit all standard wet/dry vacuums, the Flx Plus hose is made from a polyethylene copolymer, reinforced with an integral polyethylene helix, and is highly abrasion-, crush-, and chemical-resistant.
Reportedly four times more durable than standard wet/dry vacuum hose, the Flexaust MRO General Pick-Up Kit can be ordered with a stand-alone POP display (Part # TK1001) which includes 10 individual kits. Requiring minimum floor space, the display has an 18" W x 19" D footprint.