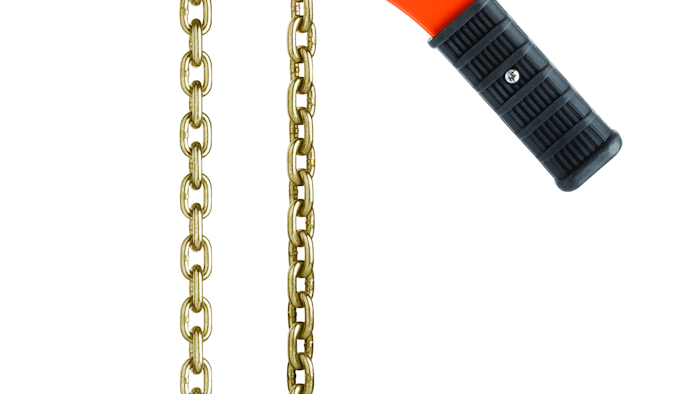 Industrial Distribution had a chance to speak with Tim Lewis, Product Manager at Columbus McKinnon, about a new hoist they were introducing to the market this fall.
ID: What is so revolutionary about this bandit hoist?
Lewis: The Bandit Hoist is the lightest, smallest and most compact ¾ and 1-1/2 ton lever-hoist that Columbus McKinnon has ever introduced into the market. What makes the bandit unique is that it is so light and compact, which makes it very easy to use. The Bandit Hoist is also the first hoist in the world to be HMI Certified. Another unique feature of the Bandit is that it is assembled in the USA and features American-made gold chromate chain and bolt-on hooks.
ID: About HMI Certification? Why did you choose to have this hoist certified?
Lewis: We like to follow the guidelines that make the end user feel as comfortable with the product as possible. HMI requirements are very stringent requirements set by HMI (Hoist Manufacturers Institute), and we wanted our end user to have peace of mind that Columbus McKinnon has made every effort possible to make sure that this is a safe, working tool for them to put in their hands or the hands of their employees. HMI does not only require that certain safety checkpoints be met, but also certain quality and reliability standards – including service – after the sale. All of these pieces are tied into that HMI Certification. It's not just that you meet the requirements once and you are done – you have to follow up with your customers after the sale.
ID: Is that a way that Columbus McKinnon is able to provide value-added service behind the products it sells?
Lewis: Yes - we actually have a full staff of customer service experts and engineers that fully understand the operations of our hoists and products. We also offer aftermarket repair for the hoists as well. We also promote the safe and proper use of all of our products, including the Bandit, through classroom and hands-on training. This training includes rigging, hoist and overhead crane certification classes led by our full-time staff of professional trainers.
ID: What new safety features were added to this hoist that create a safer environment for material handling?
Lewis: There are several –
1.)    The comfort fit rubber grip is screwed onto the unit in order to prevent slippage – this helps ensure that the handle won't slip off the hoist and that the user's hand will not slip off the handle. When grips are all metal and they get moisture on them, they slip. With the bolt-through construction on this handle, it prevents the grip from slipping off as well. A lot of units the grip is just stuck on with adhesive or tape, which can deteriorate over time. We go that extra step and put a bolt in there to prevent it from slipping.
2.)    The forged safety latches are more robust and durable than a typical stamp latch you will find on most lever hoists on the market. Forged latches are much thicker, wider, and have less of a chance of breaking down, tearing off, or getting mangled in the field like stamp latches.
3.)    The double reduction gearing of the latch requires less handle effort – which means less wear and tear on the operator and less fatigue at the end of the day.
4.)    The enclosed Weston style load brake helps to prevent contaminants. It is the brake of choice in the market. We enclose it to try to protect grit and grime from getting into the brake and causing any malfunctions.
5.)    The hoist also features our bolt-on swivel hooks. They are an important safety feature because unlike other hooks that are attached with a rivet, the bolt-on feature allows users to easily inspect the hook and replace if needed.
ID: What are the productivity gains that can be had with this hoist?
Lewis: The hoist is only as good as the operator. With this hoist being lightweight, small, and compact enough to carry around, hoist operators will experience less fatigue. Operators in mines and in the ceiling space of buildings – they take these hoists everywhere with them. A lightweight and compact design is less to tote around, and makes them more productive.
For more information, please visit www.cmworks.com.